Taiwanese Pop Rock Band, F.I.R. to Headline STÄRKER MUSIC CARNIVAL 2019
Round up your besties and head down to Zhongshan Park on Saturday, 2nd November 2019, from 3pm for the annual Stärker Music Carnival. Be mesmerised with music played by a powerful assembly of bands and singers who will set your heart ablaze with their music jamming and soulful vocals.
Organised by Stärker Music, the music arm of a core beer and bistro business supported by Stärker Group, with Cross Ratio Entertainment as the official Music and Event Organiser, the one-day carnival will bring to you live music by prominent regional artiste and homegrown talents. Tickets to Stärker Music Carnival 2019 will be available from 30 September 2019 (Monday), 1200h (SGT) via Peatix.
This year's Stärker Music Carnival 2019 will be headlined by Taiwanese Pop Rock Band, F.I.R. (飞儿乐团), supported by 5 notable local acts - Tay Kewei (郑可为), Alfred Sim (沈志豪), Qiu Feng Ze (邱锋泽), local pop band, The Fleurist, and last year's Stärker Music Jams Champion, Soph T. (霏霏).
This year's carnival is totally worth anticipating with the whole line-up of performances of the prominent regional and local artistes!
Headliner - Taiwanese Pop Rock Band, F.I.R.飞儿乐团
We are thrilled to announce that Stärker Music Carnival 2019 will be having F.I.R. (飞儿乐团) as the headliner.
F.I.R. (飞儿乐团) is a Taiwanese pop rock band- Fairyland in Reality. After their first hit song "Lydia", which was the theme song for the popular Taiwanese TV Drama, The Outsiders (鬥魚), they gained popularity throughout Asia. Since the debut in 2003, they have produced and worked with countless great musicians from all over the world, completing numerous music world tour concerts.
Favourite Local acts
Along with our Headliner, the Carnival will be supported by our homegrown artistes.
Tay Kewei (郑可为) and Alfred Sim (沈志豪)
Proudly known as the "power duo", Tay Kewei and Alfred Sim will be taking on the stage for Stärker Music Carnival 2019.
Tay Kewei (郑可为)
Sassy singer-songwriter Tay Kewei used to be the supporting singer of superstars David Tao, A-Mei, Wang Lee Hom and our country's very own JJ Lin, on their world tour. Tay Kewei has since released 3 full length albums under her belt and staged her full fledged solo concert at the Esplanade Concert Hall. Nicknamed as the "angel of harmony", she performed for NDP Parade 2014, Celebrate SG50, Countdown show, SEA Games 2015, ASEAN-China Friendship Concert 2015 and 2016, Hong Kong Asian Pop Music Festival 2018, ASEAN Friendship Concert 2019 and many more.
Alfred Sim (沈志豪)
Alfred Sim released his debut EP in January 2016, and it is well received by the public and media alike. He has since performed at international stage such as China-ASEAN Friendship Concert 2016, Hong Kong Asian-Pop Music Festival 2017 and also held his solo rock concert at Esplanade Annexe Studio in 2017.
Qiu Feng Ze (邱锋泽)
Qiu Feng Ze is a Singaporean singer-songwriter with 61,000 subscribers to his channel on YouTube. He rose to fame when he launched his debut (Ten Storeys) 5 years ago (2014) to much acclaim, then he even edged out the king of mandopop Eason Chen to top the radio charts in Taiwan. One of his songs in his 2nd album also hit the top in one of the billboards ranking in Taiwan. Since then, Feng Ze has released numerous music videos in his YouTube channels. Other than composing many well received mandarin hits in the various music platforms, Feng Ze also flaunt his admirable acting skills in "That Girl in Pinafore".
The Fleurist
The local pop duo, The Fleurist, consists of 2 unique individuals: Marcus Tay and Joshua Wee.
"The Fleurist" is derived from the word "Fleur", which represents flowers, and an alternate representation of a pretty lady. The Fleurist released their first single "Say What You Mean" in March 2018 as independent artistes and subsequently "V" in May 2018. To promote the release of their first single, the band played at various events and festivals like Urban Ventures and performances at Tampines Hub. They have also performed in the TGIF Music Station and the opening act for South Korean singer-songwriter, Sam Kim for his first solo concert here in Singapore.
In late 2018, Marcus competed in Singapore's biggest singing competition "SPOP Sing!" and achieved 1st runner-up. Currently, the band is back in the studio working on an upcoming new single that will be in the EP they are working towards releasing.
Soph T. (霏霏)
Stärker Music Jams 2018 champion, Soph T. is a bilingual singer-songwriter who comes from a classical singing background, well-equipped with the verses of music. 《上鎖》is her first single release after her championship and has garnered a pool of fans since then. Talented since the age of 14, she picked up musical skills such as piano and acoustic guitar. She continues to pursue her musical talents by conducting for her school choir and playing lead roles in school musicals. With her unique vocals and talent, the songbird has been involved in many events and performances, which includes Artbox 2017, Hear65 X 1003FM, Esplanade Concourse Performance and Room2F intimate session with local singer-songwriter Zeeaura and more.
Keep a look out for - Finalists of Stärker Music Jams 2019
Finalists from Stärker Music Jams will be performing their sets at the Carnival, sharing the same stage as the renowned artistes. Stärker Music Jams is a platform for aspiring singers/bands to showcase their talents. Handpicked by Music Industry Judges, Stärker Group Management and Public Votings, the Finalists will have the final showdown on the main event day. Stärker Music Jams 2019 Champion will be announced on the day itself and will also be walking away with $30,000 worth of attractive prizes, including song production from Gryd Studio!
Admission to Stärker Music Carnival 2019
Admission to the Carnival will be free with purchase of food and beverage package.
This year, we are introducing Early Bird tickets from now till 7 October, 1200hr for our Food and Beverage packages. Individual package consists of 330ml Stärker fresh beer and Golden Fish Bites at $28 (U.P. $38) while the group package for 4 includes 5 Litre of Stärker fresh beer with an assortment of light bites will be available at the price of $188 (U.P. $228). Designated seats will only be assigned for the group packages.
The carnival will bring to you a night of wonderful music along with award-winning Stärker fresh beer and grubs - don't miss such great deals, grab your tickets now!
Entry is given based on a first come first serve basis.
Do secure your slot early here: https://smc2019.peatix.com
Details of Stärker Music Carnival:
Date of Event: 2nd November 2019, Saturday
Venue: Zhongshan Park, 1 Jalan Rajah 01-02, Zhongshan Park, Singapore 329133
Doors Open: 3 PM
Early Bird Pricing till 7 October 2019, 1200hr:
Individual package (S$28): Consists of 330ml Stärker fresh beer, Golden Fish Bites, and admission to carnival for 1 pax.
Group Package (S$188): 5 Litre of Stärker fresh beer with an assortment of light bites, and admission to carnival for 4 pax.
General Admission Pricing:
Individual package (S$38): Consists of 330ml Stärker fresh beer, Golden Fish Bites, and admission to carnival for 1 pax.
Group Package (S$228): 5 Litre of Stärker fresh beer with an assortment of light bites, and admission to carnival for 4 pax.
Ticketing Website: https://smc2019.peatix.com
About Stärker Music Carnival
Entering its 4th edition, Stärker Music Carnival is a yearly music carnival organised by Stärker Music, and curated and co-organised by Cross Ratio Entertainment. This festival gathers established and emerging homegrown talents to perform alongside the headliner of the year. This festival also encompasses Stärker Music Jam, a competition for aspiring singers and bands to gain traction in the local music scene. The objective of this initiative is to give more exposure and a platform to showcase their talents. Besides the entertainment on stage, event-goers can get to enjoy a holistic carnival experience with Stärker Fresh Beer, finger foods and carnival games.
About Stärker Music
On top of its core beer and bistro business, Stärker Music is a supportive platform for local emerging talents. Stärker Music is developing into a community of musicians and industry players who meet, mingle and collaborate. Stärker Music contributes to the local music scene through its residency programme for local talents to regularly perform at the Stärker outlets.
9m88, the Most Anticipated Newcomer of the Year, to Stage First Solo Concert in Singapore


Charming local and international audiences alike with her smooth R&B/jazz vocals and uniquely genre-bending musical style, Taiwanese singer-songwriter 9m88 is definitely one of the most anticipated newcomers of the year in the music industry.
The jazz/neo-soul singer will stage her first ever solo concert in Singapore - 'cross-over x 9m88: Live In Singapore' - this coming 28 November 2019, 8pm at Esplanade Annexe Studio. She will be the first Taiwanese artiste to perform at cross-over*, a music series initiative by Cross Ratio Entertainment.
In July, all 3,000 tickets to 9m88's debut album 'Beyond Mediocrity' launch concerts in Taiwan were sold out within seconds of release. 'Beyond Mediocrity' has achieved over 6,000 physical album pre-orders even before its official release on 8 August 2019, proving 9m88's rising popularity.
'Beyond Mediocrity' is a product of the greatest musicians of the new generation. It has gathered recent winner of Golden Melody Awards for Best Mandarin Male Singer - Leo Wang, winner of Golden Melody Awards for Best Producer of the Year (Single) - Huang Hsuan, rapper/producer - Soft Lipa, rising bedroom producer - Layton Wu, and one-half of Korea's popular producer duo Offonoff - 0Channel. 'Beyond Mediocrity' is an amalgamation of musical styles and modernity, a stunning and refreshing work that is bound to impress the international audience.
Prior to this current album's release, 9m88 has successfully stirred a buzz amongst music when she uploaded her single 'Aim High' on major streaming platforms. This was sequel to huge sensational response witnessed by many industry-watchers after her retro-theme music video 'Love Rain' was released.
9m88 first gained the attention of the public after her collaboration with Taiwanese rapper Leo Wang for 'Weekends with You' in 2016. She has since collaborated with other musicians of various styles, including Sodagreen's frontman Wu Tsing-fong, rapper/producer Soft Lipa, R&B rising star ØZI, among others, gaining her the title of 'Queen of Feature'. Interestingly, her past collaborators were winners of the renowned Golden Melody Awards - Leo Wang (Golden Melody Awards 2019 for Best Mandarin Male Singer), ØZI (Golden Melody Award 2019 for Best New Artist), Sodagreen's Wu Tsing-fong (Golden Melody Award 2016 for Best Musical Group).
With her solid growing fanbase and her string of high profile collaborators, it is no surprise that 9m88 has been constantly invited to perform at numerous international music festivals. She has since performed at Wake Up Festival in Taiwan, Golden Melody Festival - GMA Heat in Taiwan, Summer Sonic Festival in Japan, Clockenflap Festival in Hong Kong, and more.
Performing with her full band this November, music fans can look forward to the electrifying performance of this trend-setting singer-songwriter at cross-over x 9m88: Live In Singapore.
Tickets are priced at $128 for VIP ticket that consists of priority entry and an autographed album, $98 for Standard ticket, and $118 for door sales. This is a free-standing concert. Tickets will go on sale via Peatix on 25 September 2019, 12:00PM SGT.
Event Details:
Event Title: cross-over x 9m88: Live In Singapore
Date: 28 November 2019, Thursday
Venue: Esplanade Annexe Studio
Time: 8.00PM
Doors Open: 7.30PM
Ticketing Platform: https://cross-overx9m88.peatix.com
Ticketing Price: VIP $128 | Standard $98 | Door Sales $118
South Korean American singer-songwriter, Sam Kim performed for a sold-out concert for local music initiative, cross-over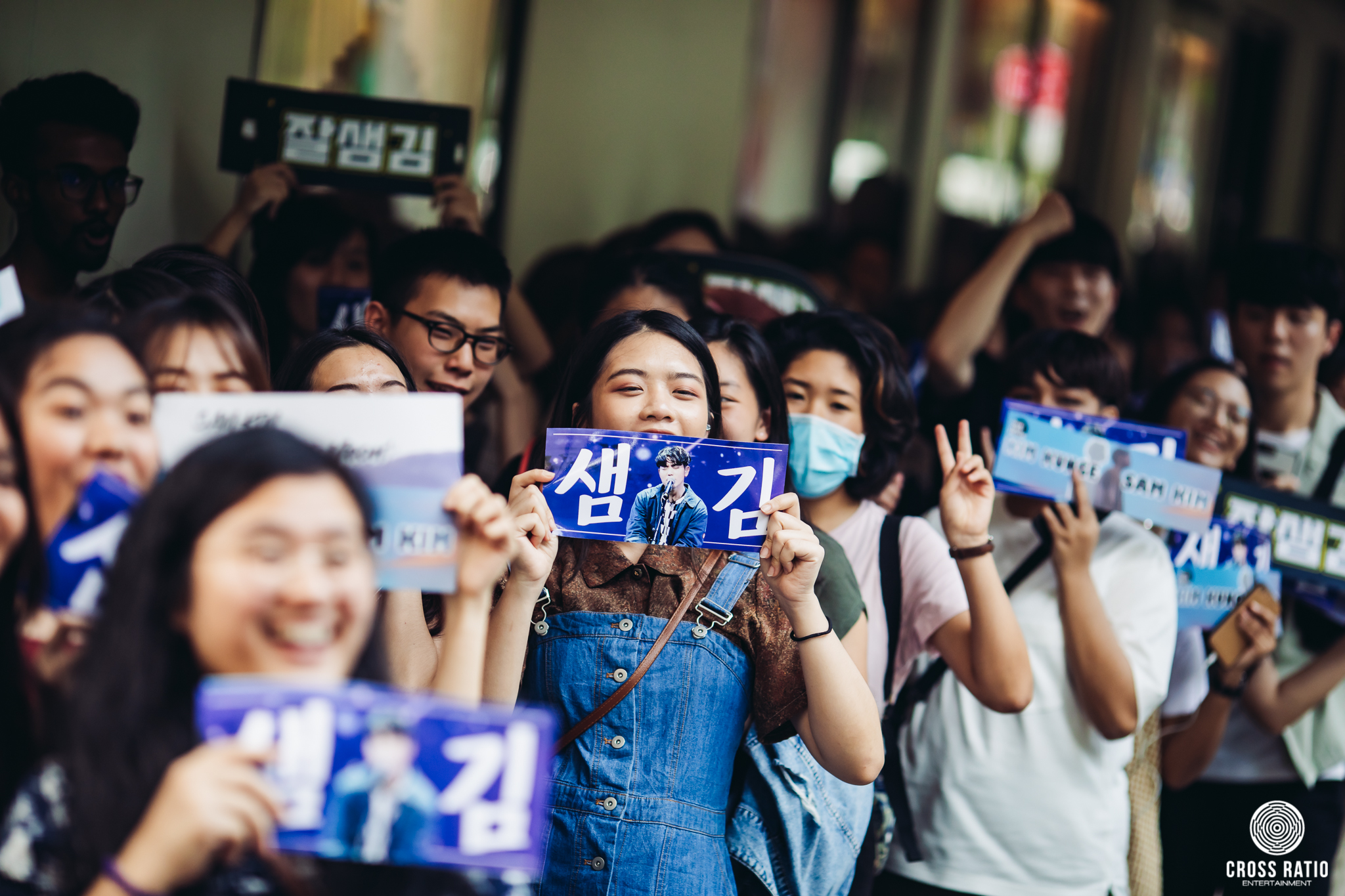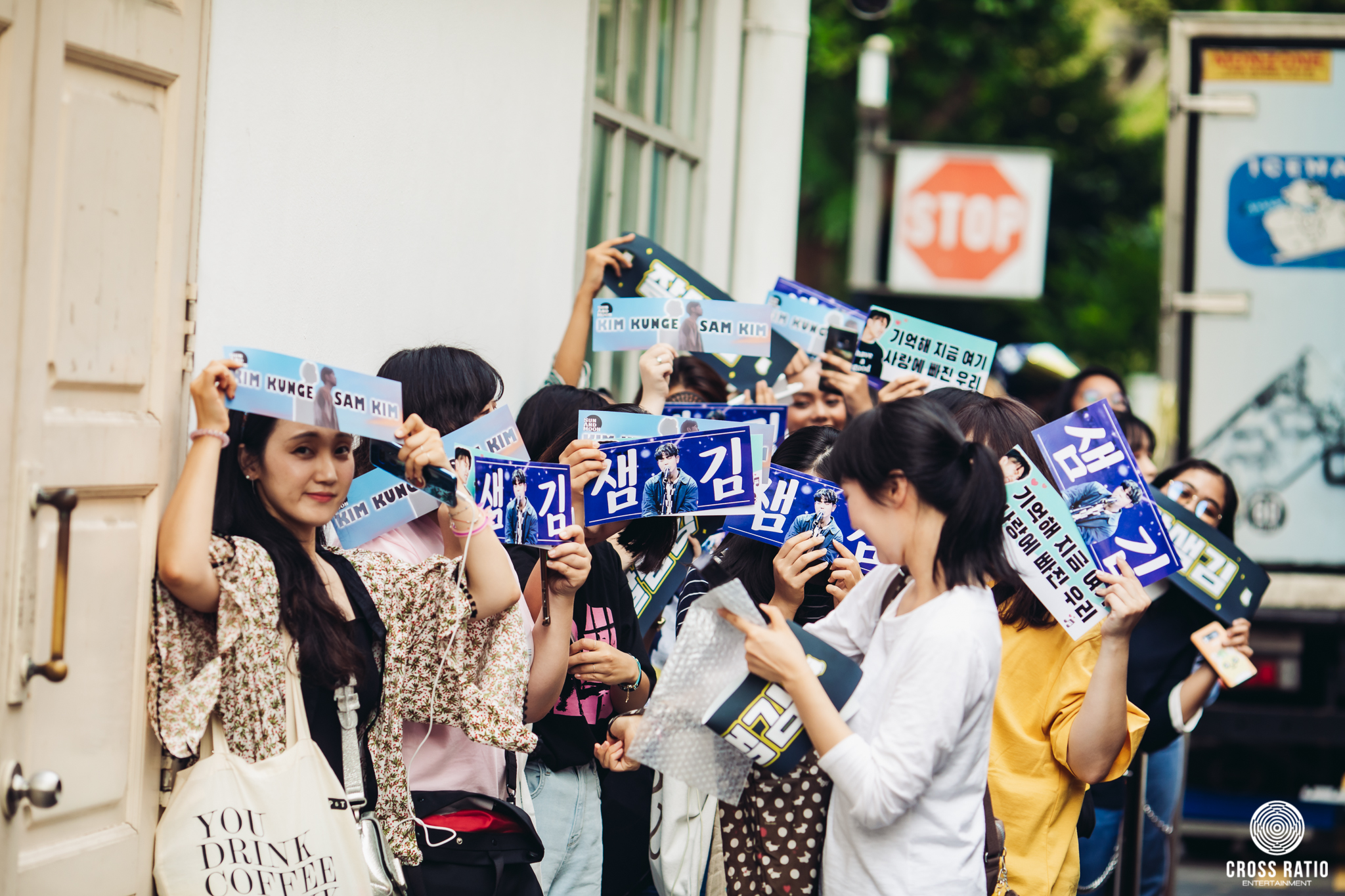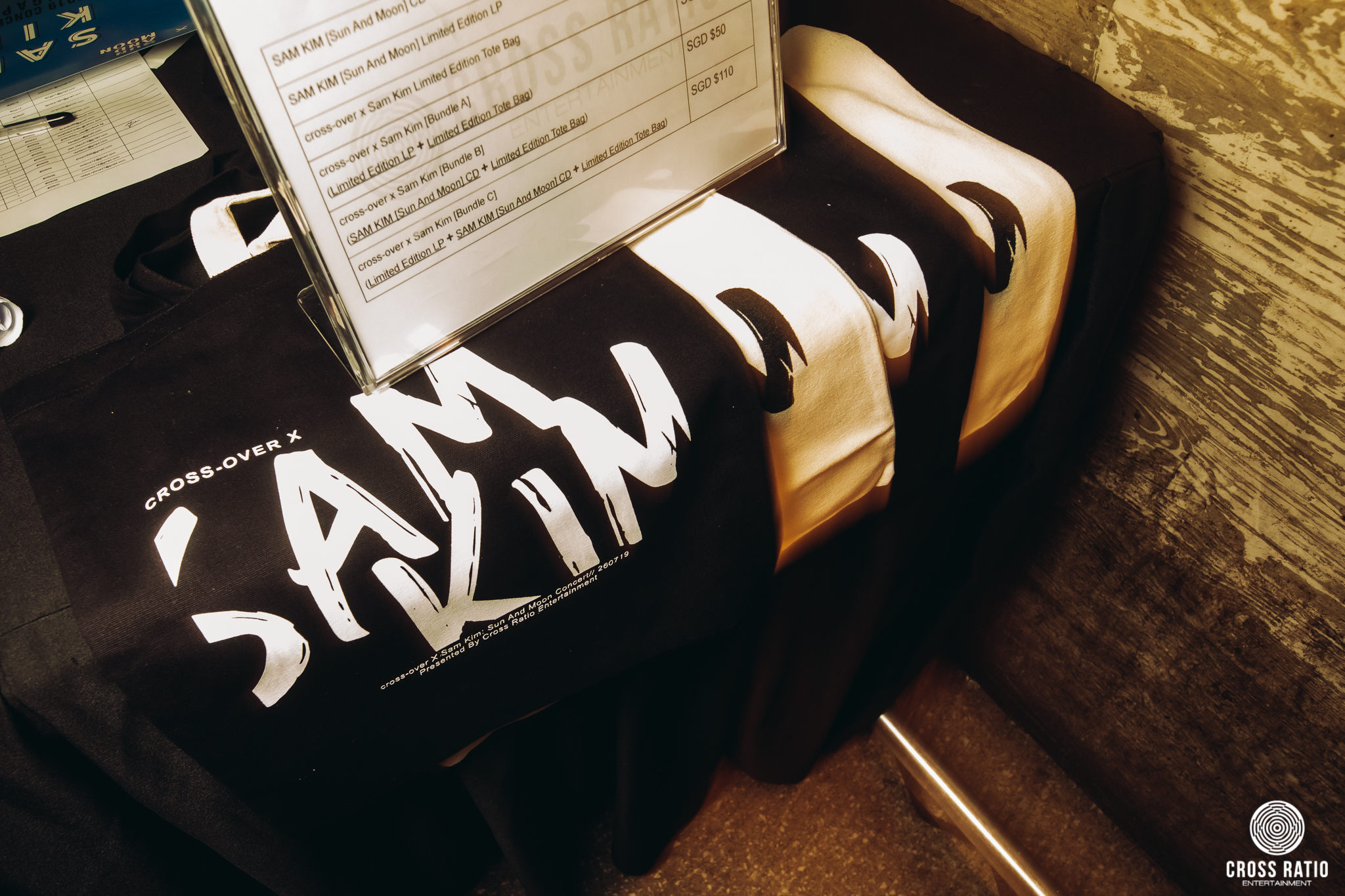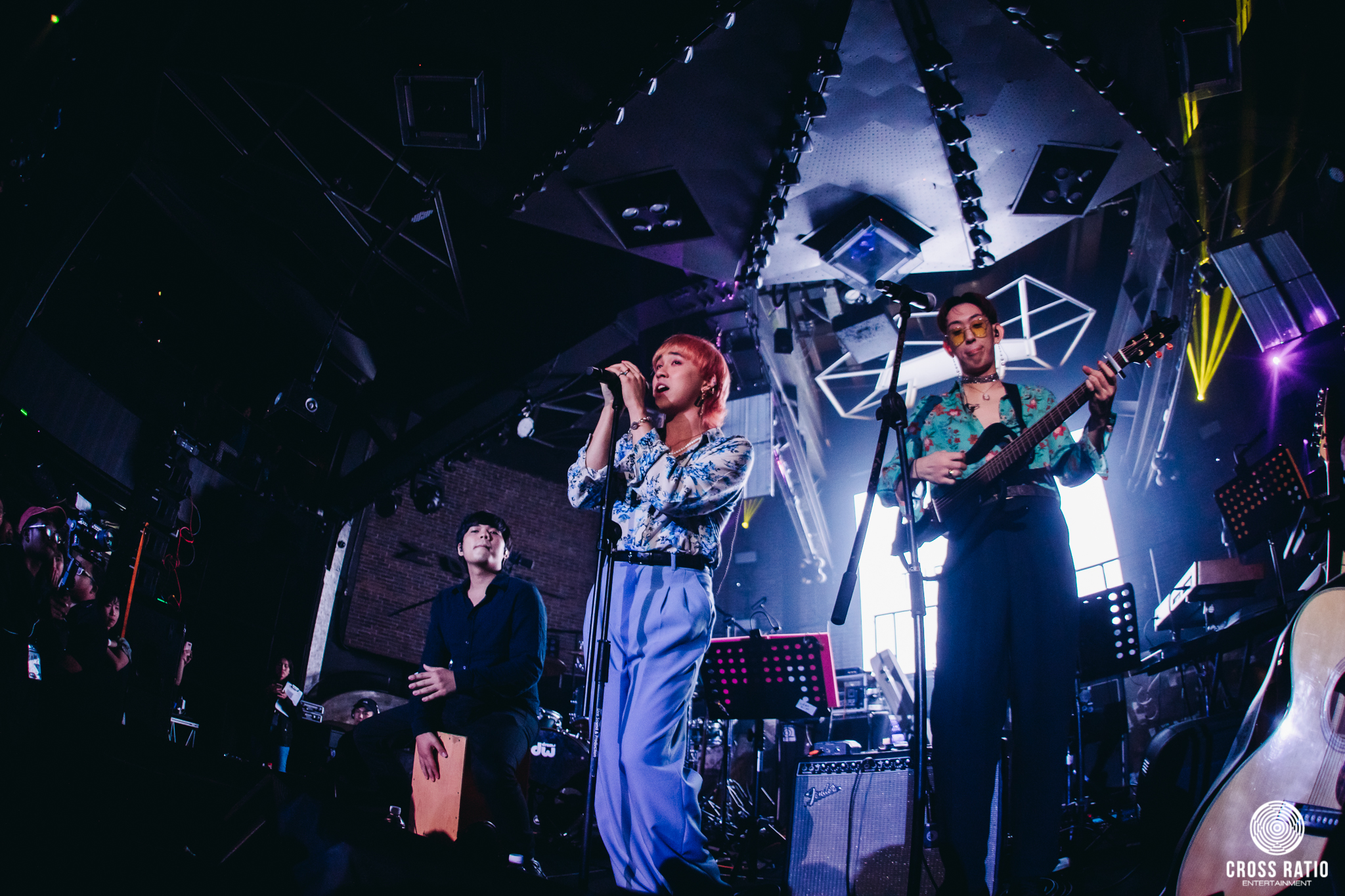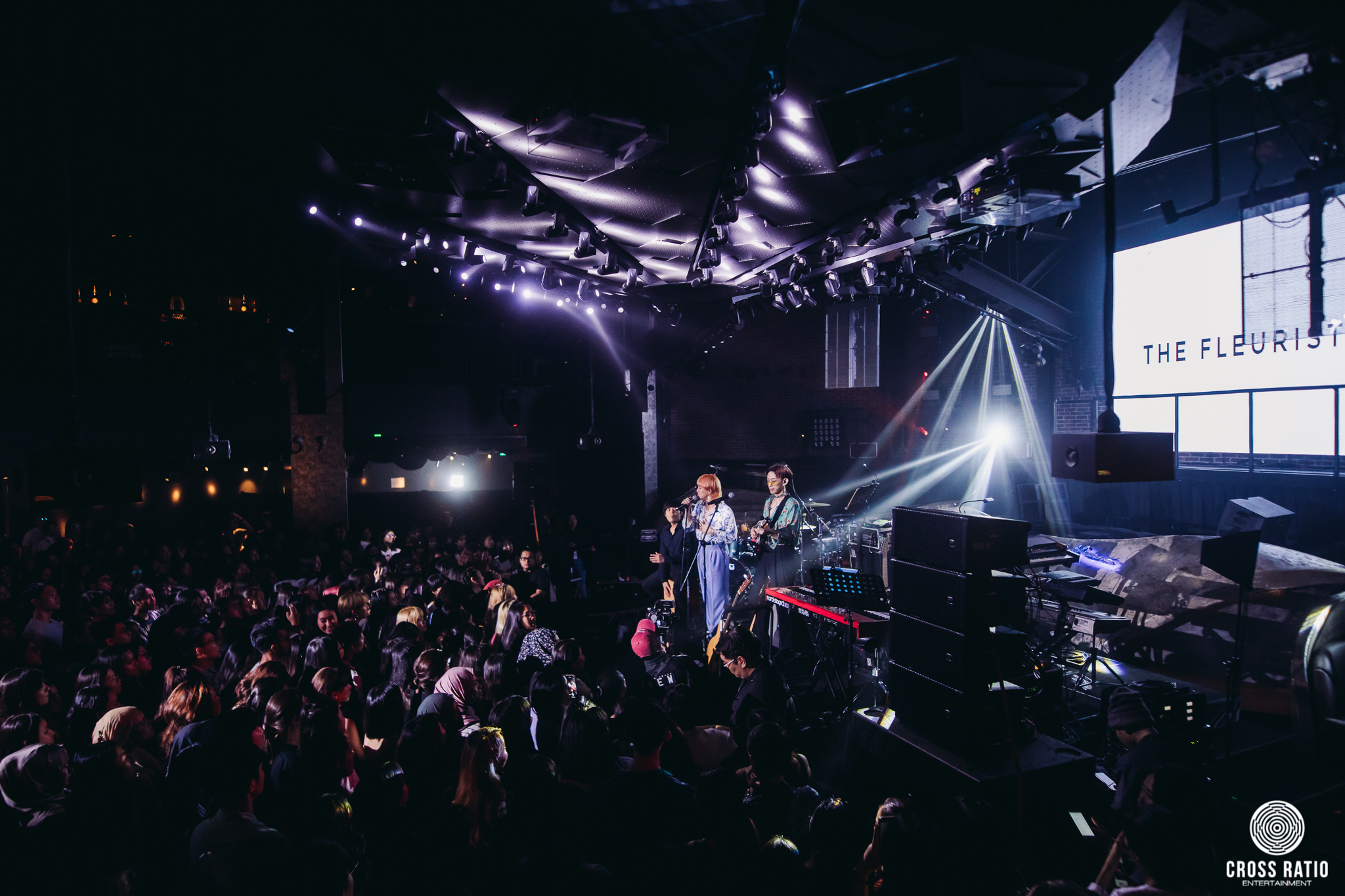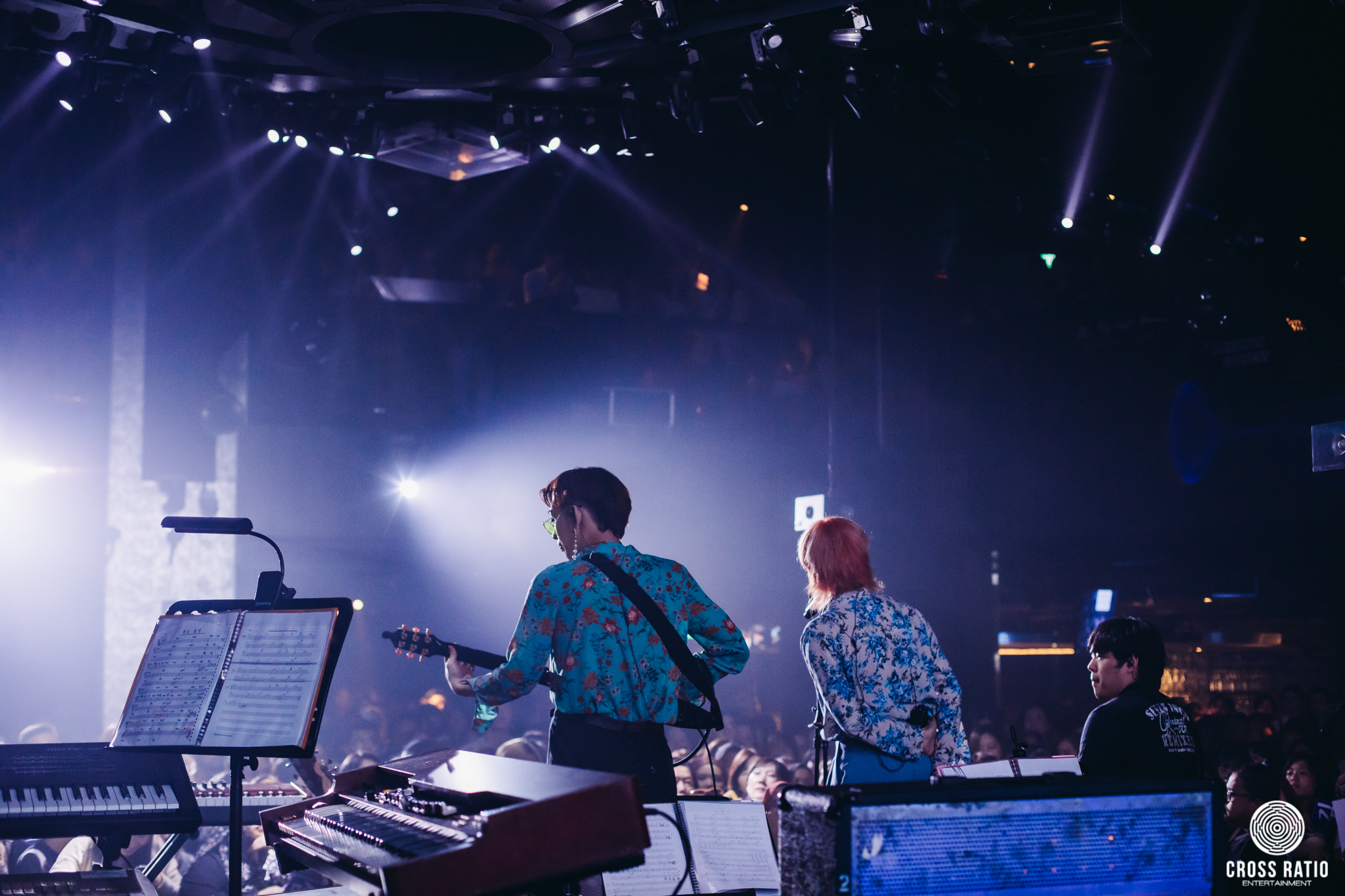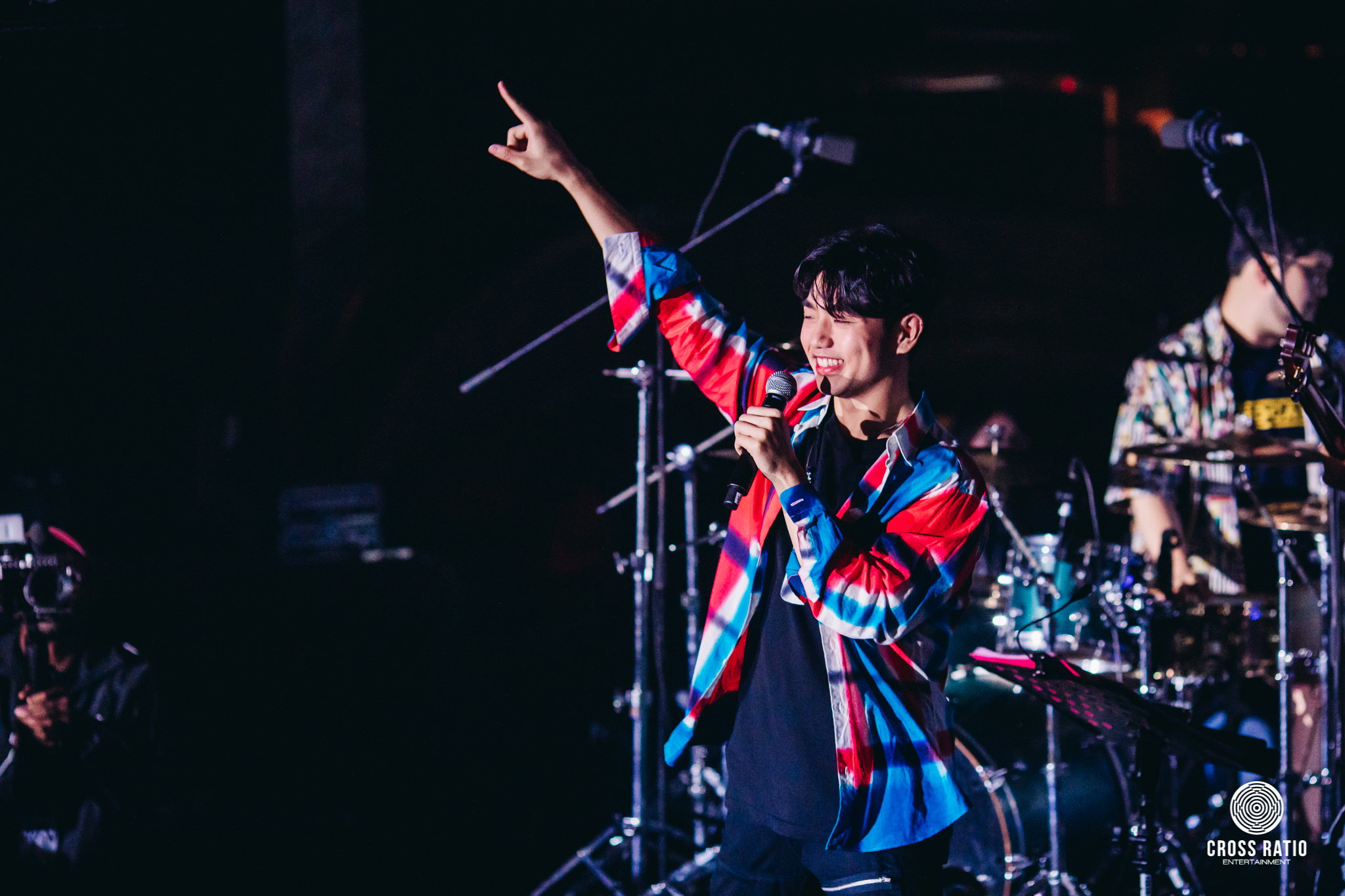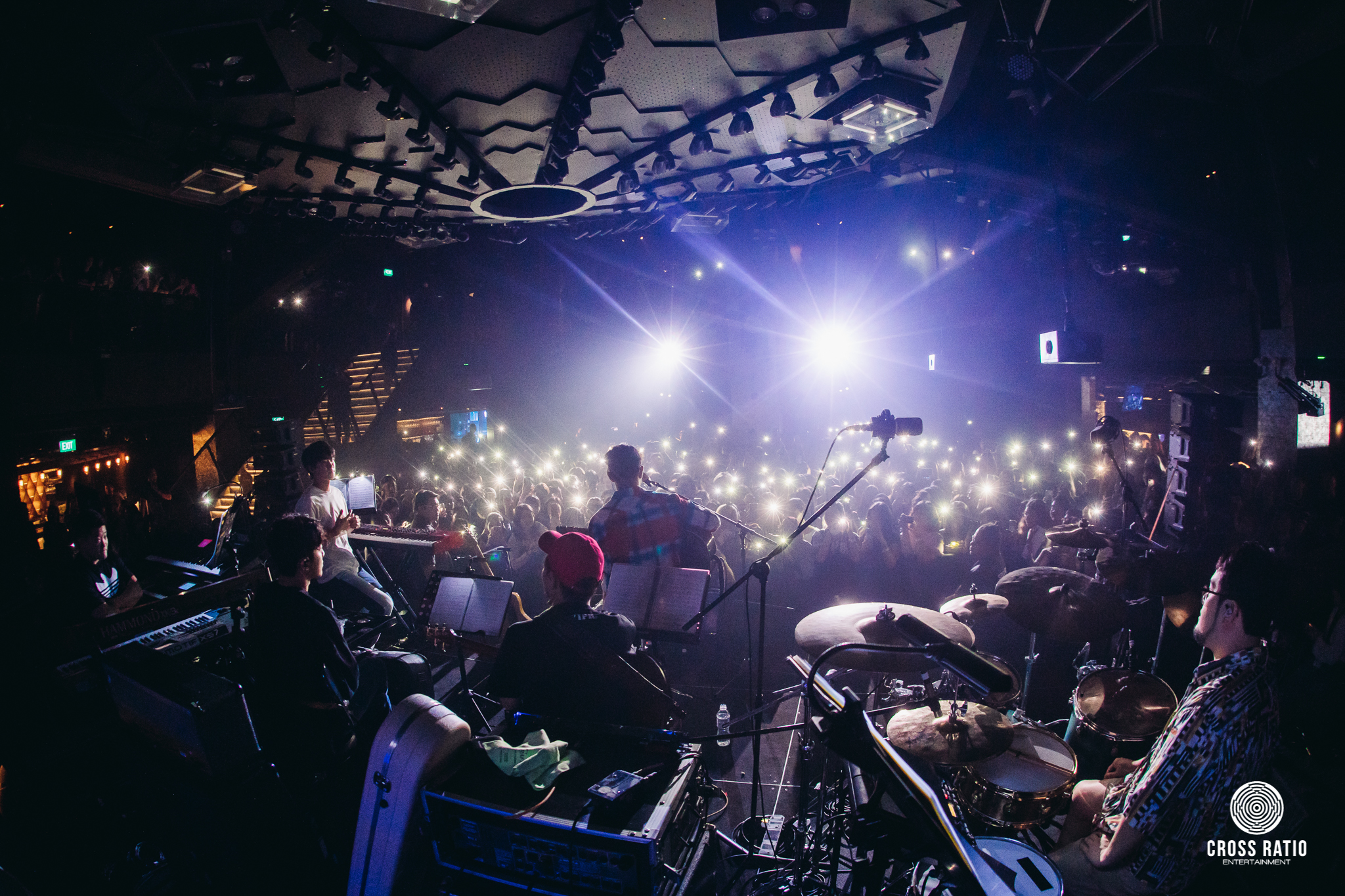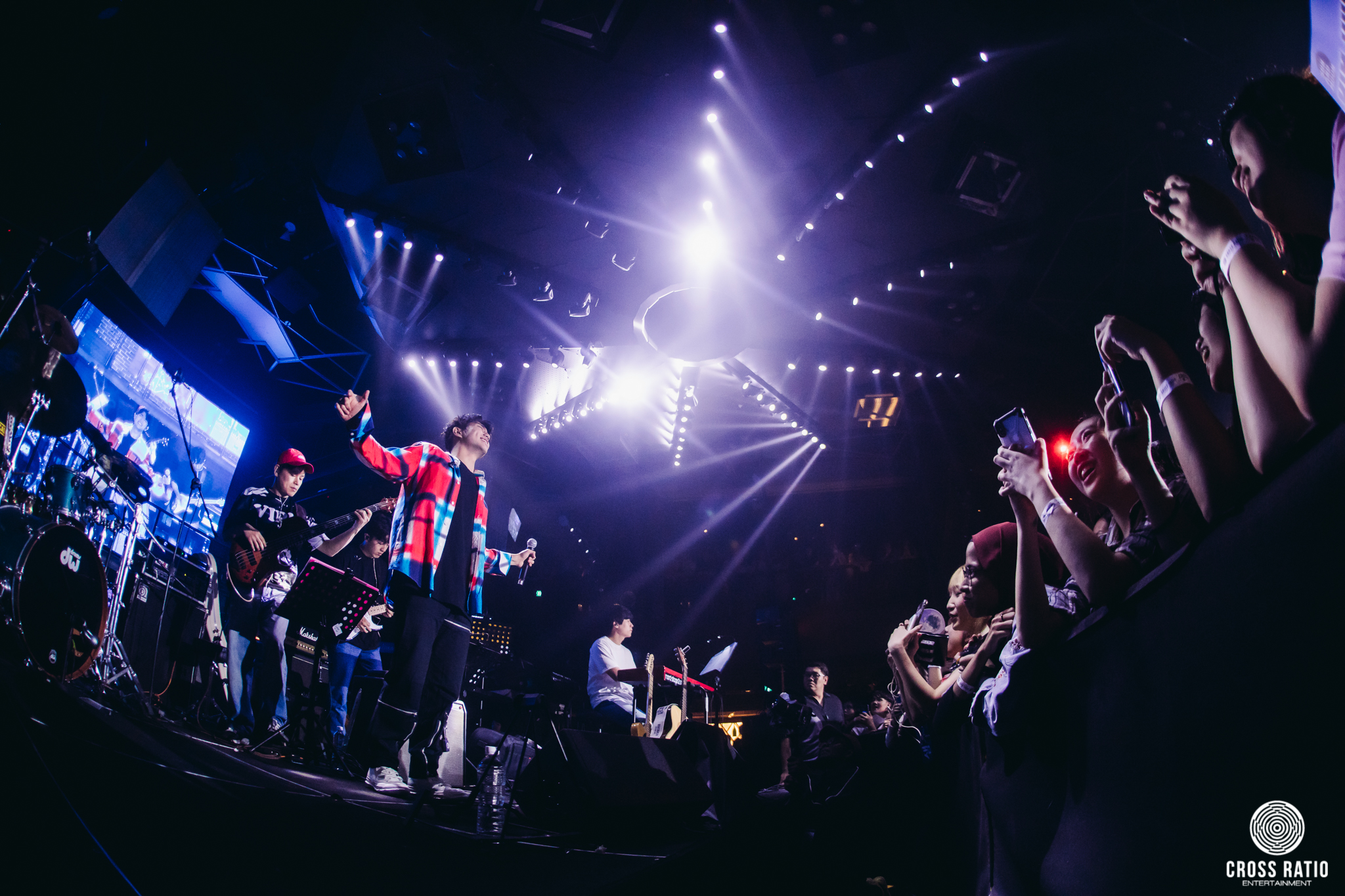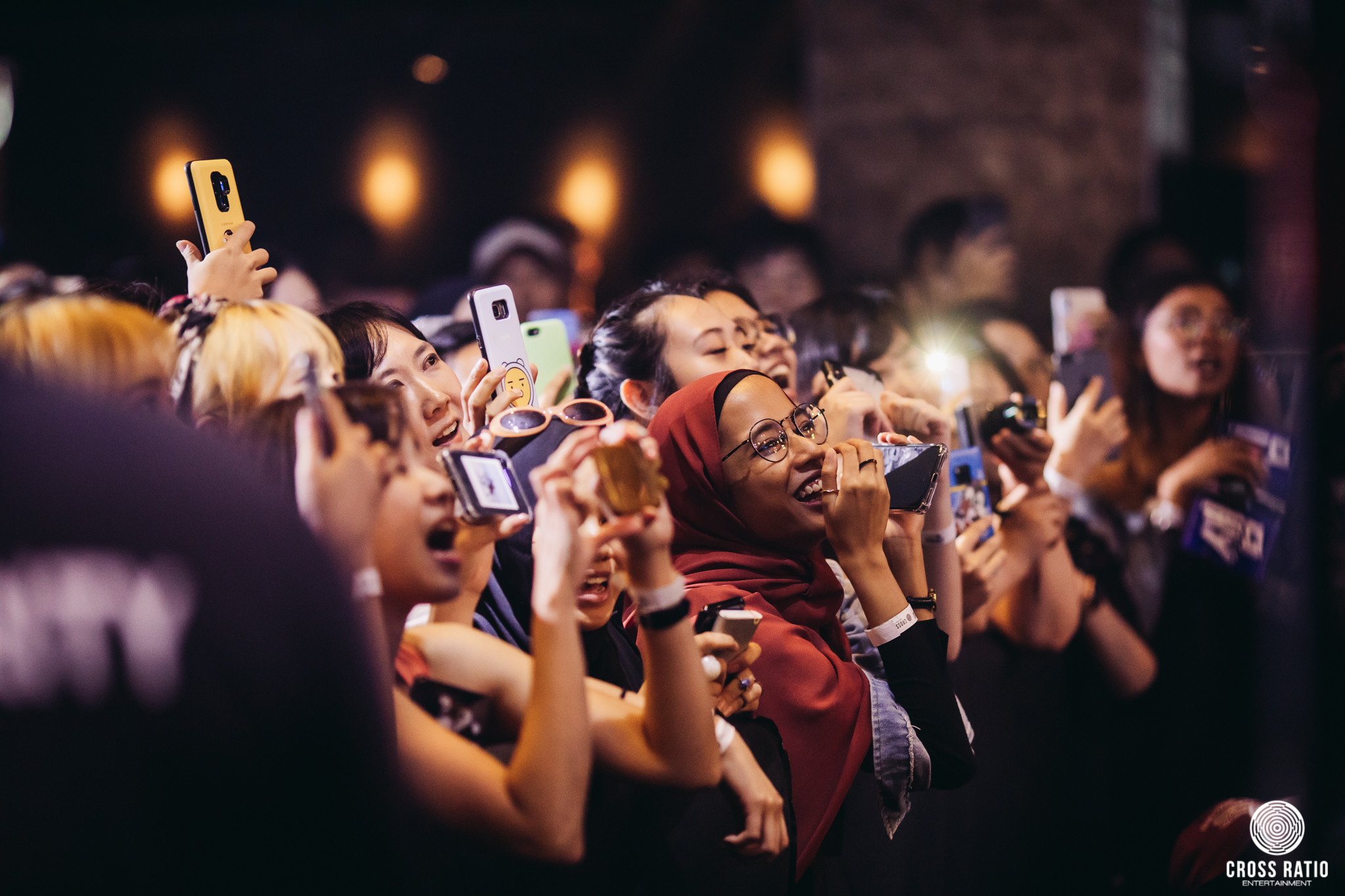 From radio interview, media interviews to appearing on national television show for the first time over the weekend, South Korean Amercian singer-songwriter and guitarist performed in Singapore with a full band for the first time as the debut artiste for a local music initiative, cross-over.
Curated and organised by Cross Ratio Entertainment, the first cross-over concert was a huge success. Sam Kim performed for a sold out concert of 1,000 at Zouk Singapore. All fans in attendance, was mermised by the show as he sang his hit songs such as "It's You" (ft Zico), "Make Up" (ft Crush), "Sun And Moon" and many more.
Before the start of the concert, 30 lucky ticket holders who were randomly selected were given a chance to interact and take a photo with Sam Kim.
As early as 8am, Sam Kim's fans started to camp outside the venue even though the door will open at 6pm. Fans across Indonesia, South Korea, Malaysia, Thailand and Singapore all started to line up at the venue early to secure good spots near the front of the stage.
Opening up the concert, The Fleurist, a local electronic, pop and alternative rock band showcased their amazing vocals and talents to the crowd with their self-composed and produced songs, "Say What You Mean", their recent single release, "I Don't Wanna Die" and many more. Their talents shine and many of the audience became their new fans, achieving the goal of cross-over of introducing local act to the crowd.
Although, the duo music genre was contrasting to Sam's, but those in attendance were jamming along in anticipation of what's ahead!
After much anticipation, the fans finally got to see Sam Kim took the stage with his guitar. He started off the concert with his angelic voice to "Sun and Moon". The atmosphere was warm and fuzzy as the audience sang along with Sam. He was in awe of how the fans could sing along to the song. A good portion of the songs were from his latest "Sun and Moon" (2018) album including his hit songs "It's You" (ft Zico), "Make Up" (ft Crush) and "Sunny Days, Summer Nights" and "The One".
From time to time, Sam brought his fans down to memory lane with his single release in 2017, "Think About Chu" and his debut EP, "I AM SAM" (2016) including songs, "Touch My Body", "Seattle", "Dance", "No Sense", and "Your Song". He also sang "Scent", his latest OST for the drama, WWW and covered, "Englishman in New York" by Sting.
Of course, the night will not be completed without an encore- The atmosphere was at an all-time high as Sam Kim performed "Would You Believe" leaving fans in awe and definitely a memorable evening to remember.

TGIF Music Station 2019 January - March show!
Together with the Singapore Chinese Cultural Centre, look forward to exciting line-ups in the TGIF Music Station 2019, performed by our very own local artistes on every 1st and 3rd Fridays of the month!
Lunchtime Pop-up show:
- 12.30pm - 1.30pm
- Tanjong Pagar Centre, Urban Park (1 Wallich Street, Guoco Tower, Singapore 078881)
Evening show:
- 7.15pm - 9.15pm
- Singapore Chinese Cultural Centre, Concourse level (1 Straits Boulevard, Singapore 018906)
See you there!
Stärker Music Carnival 2018 has once again wrapped up with a full house attendance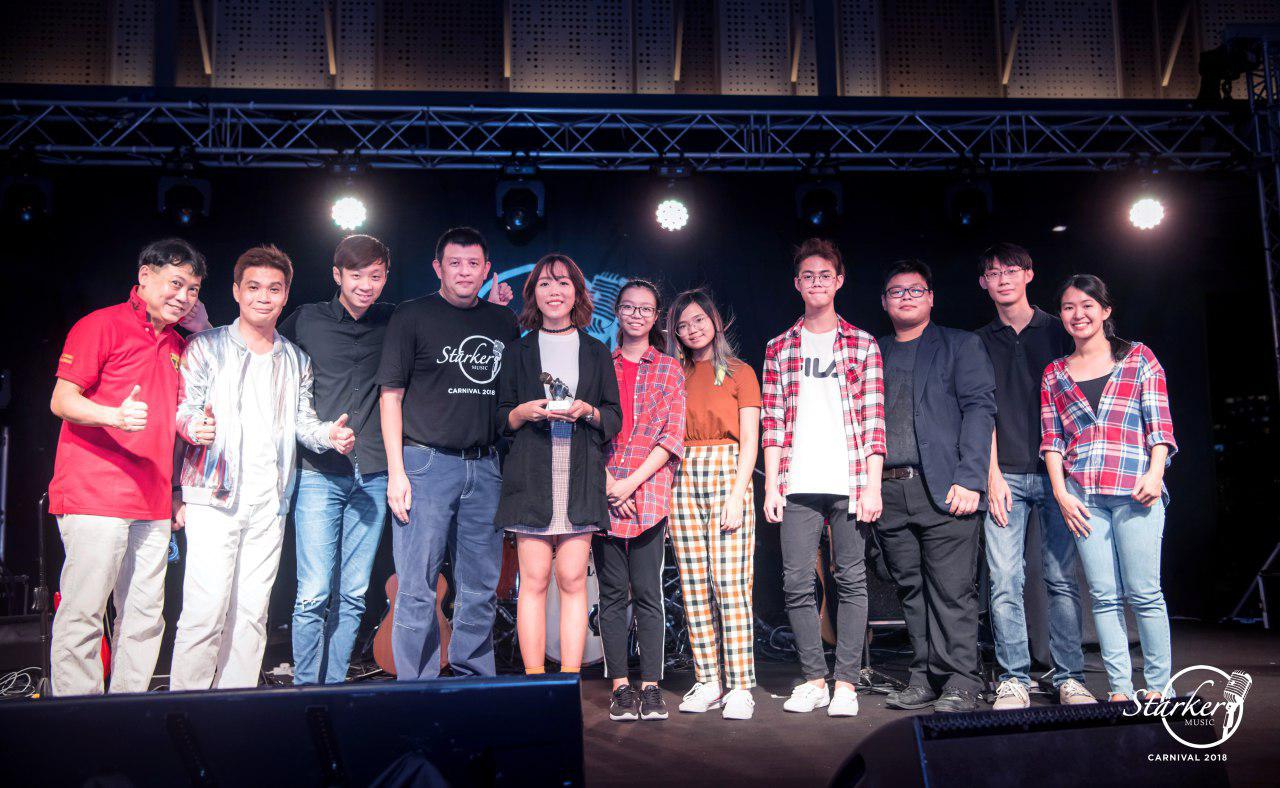 Stärker Music Carnival 2018 at Punggol Waterway Square has just ended with a BANG on 27th October 2018, with the event gathering a full house attendance of 2000 people, filling up the entire event venue to see Taiwanese Diva and headliner act A-Lin, along with other notable local acts MICappella, The Façade, and HubbaBubbas. Initiated by Stärker Music Group, and supported by Cross Ratio Entertainment as the Official Music and Event Organiser, the 7-hour carnival involved a variety of music genres intertwined beautifully, capturing the hearts of the people.
Stärker Music Jams Finals 2018
Starting out the carnival were the finalists of Stärker Music Jams (SMJ) – Lu Khei, Psquare, Soph T., and Allan – showcasing their amazing talents to the crowd as well as to the judges this year; local bilingual singer-songwriter Ling Kai and well-known music producer/arranger George Leong. Each finalist has made a huge impression with both their cover songs and their original pieces.
Local Acts Lineups Killin' It on Stage
As the SMJ 2018 finals came to an end, the stage was taken over by 3 of our talented and homegrown acts leading up to our headliner of the night - A-Lin.
Starting off the line-up of performances after the SMJ, the power-packed post-acoustic trio, HubbaBubbas, hyped up the crowd with their electrifying songs and voices. Performing a number of covers, 'Finesse', 'New Rules','Valerie' as well as some of their originals, 'Can I Sit with You', 'Dancing on the World' and 'Address'. Their songs definitely hooked the ears and hearts of many in the audience.
By the time when the alternative-pop band The Façade, took over the stage with their smooth, appealing music, and signature sound - pop, rock with a tinge of blues. The place was packed with the crowd jamming to their groovy beats of the songs 'Hearsay', 'Victim', 'White', and 'Better Than This' from their EP 'Vanity', and other popular tunes.
The last local act performance leading up to the event headliner was a local A-cappella band consisting of 6 members, MICappella, bringing their contagious energy to the stage and crowd. Singing their popular covers such as the mashup of 'You Are The Apple Of My Eye' and 'Our Times' called '那些年的小幸运' and Mayday 五月天 '伤心的人别听慢歌', the band definitely took the crowds' breaths away. In addition, they sang their original hits '起点' (The Beginning) and '终于能回家'.
Stärker Music Jams Winner - The Reveal
Whilst the crowd was getting hyped up for the main event, the finalists of Stärker Music Jams were gathered up on stage for the announcement of the winner. The winner for Stärker Music Jams - Soph T., was rewarded with a three-month residency with Stärker Music, a one-year management deal with Cross Ratio Entertainment, and a single produced by George Leong. Joining her on the stage was CEO of Starker Group, Wilson Tan.
Headliner: Taiwanese Diva A-Lin
It was the moment everybody was anticipating for. Once again, back on stage as the headliner was Taiwanese Mandopop Diva, A-Lin.
With her equally amazing backup singers, A-Lin made her fans go wild as she started with her first two songs, incorporating dance choreography as she sang. Midway through her performance, following the German beer culture, A-Lin was invited to tap off the beer barrel with a mallet as a signature act of the beer barrel ceremony.
To end the Carnival with a huge bang, A-Lin fully satisfied the highly anticipated crowd with her mind-blowing vocals as she sang '给我一个理由忘记' (Give Me A Reason To Forget), '失恋无罪' (Lovelorn, Not Guilty), '忘记拥抱' (Forgetting Your Embrace), and '听见下雨的声音' (Rhythm Of The Rain).
Despite the numerous visits to Singapore, either as a headliner act of Stärker Music Carnival or promoting her songs through her world tour concert, those die-hard fans had never failed to show their constant love and support towards A-Lin. In return, the Taiwanese singer delivered her performance with much power and passion.
Photos Credits: Starker Music Carnival 2018
Stärker Music Carnival 2017 successfully concluded with full house attendance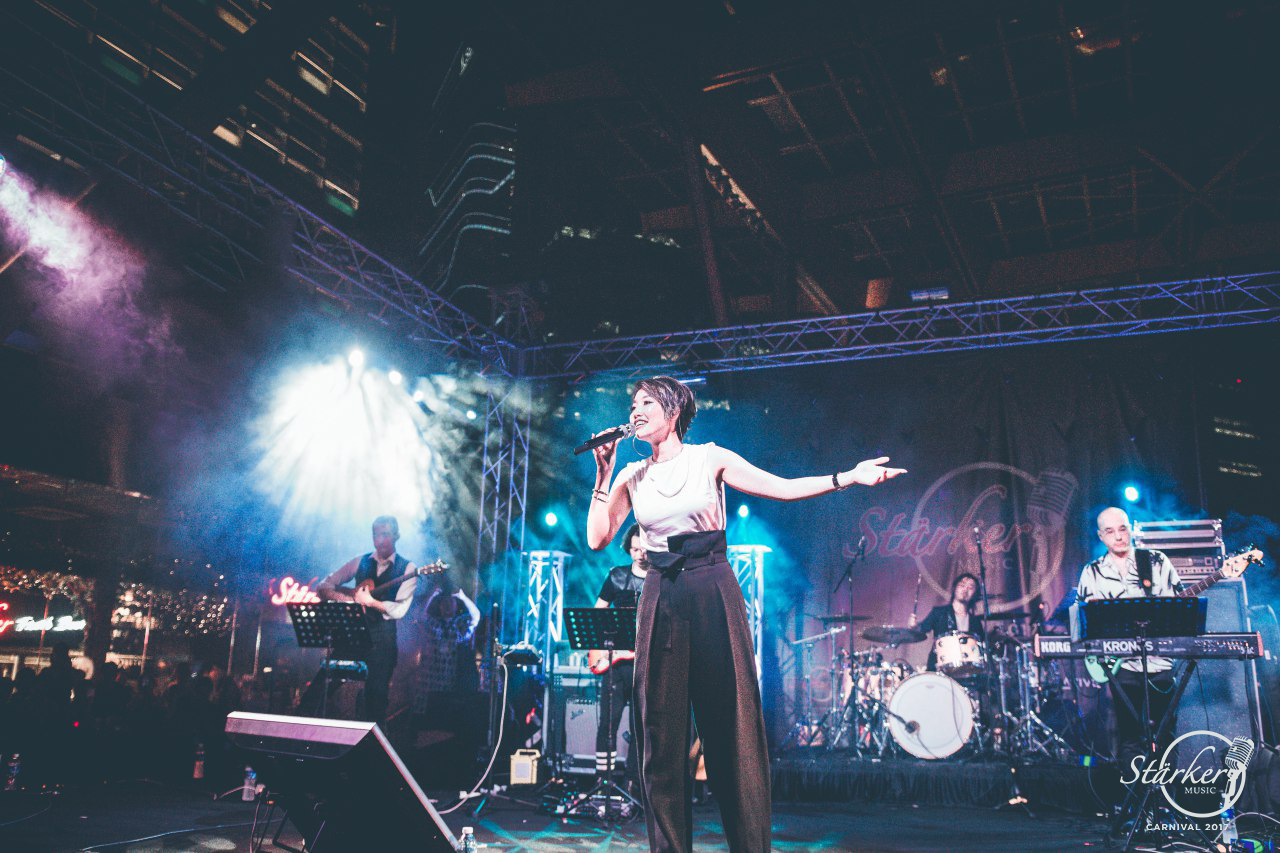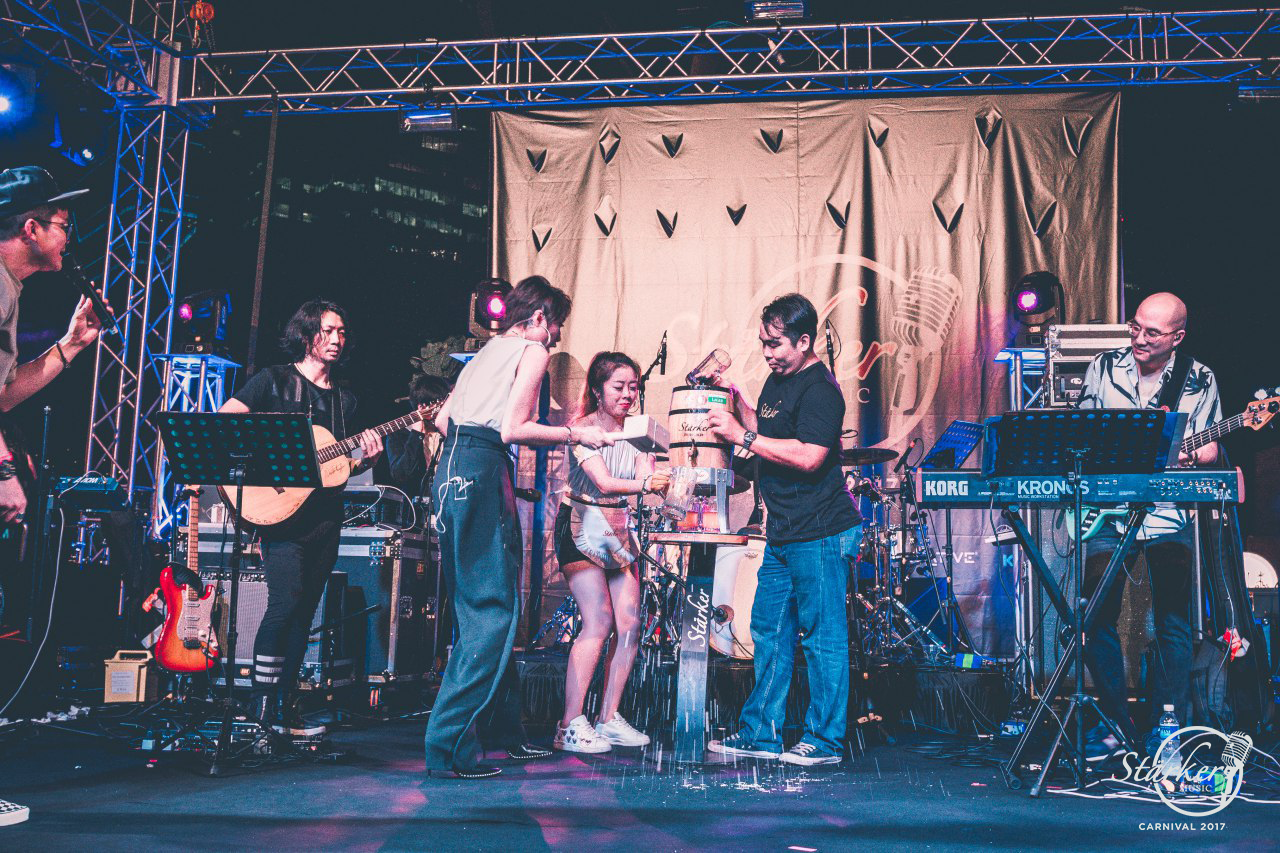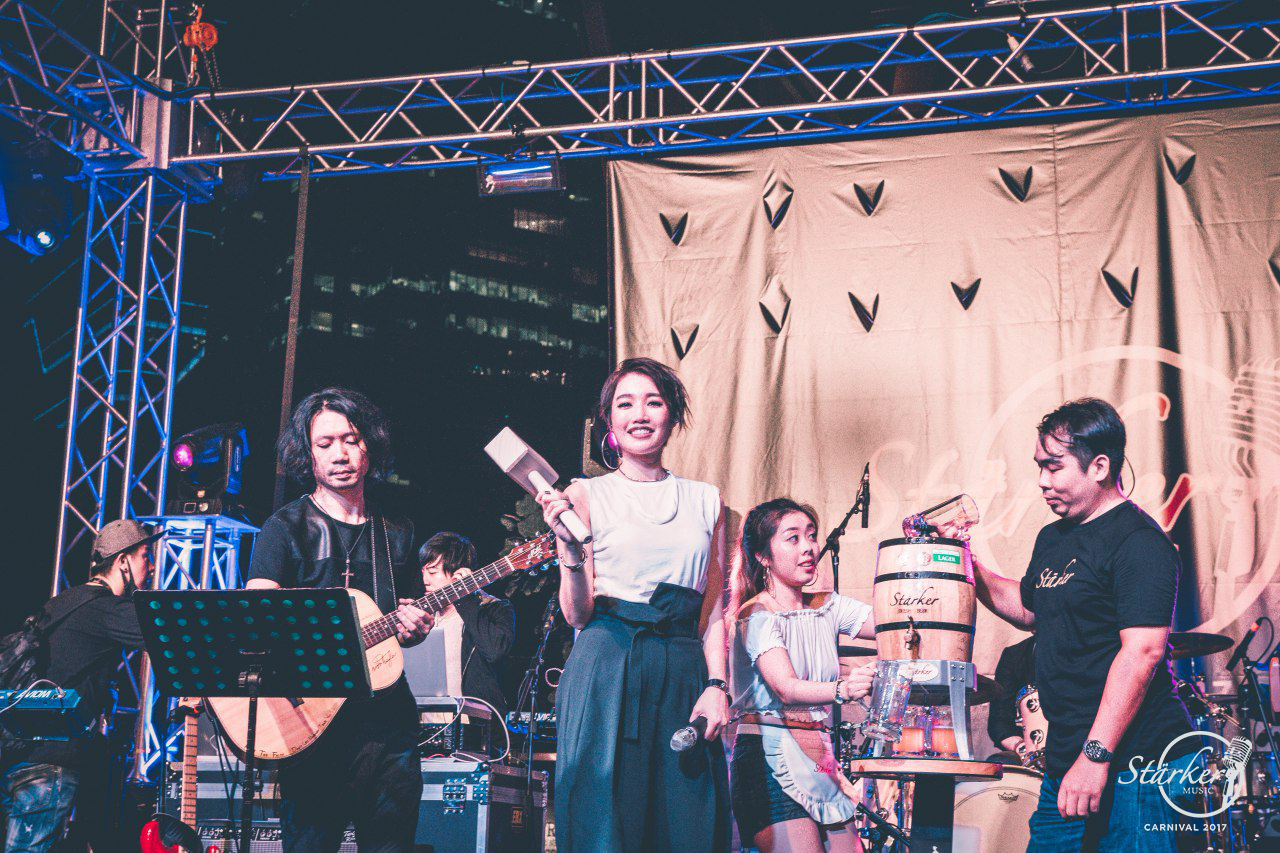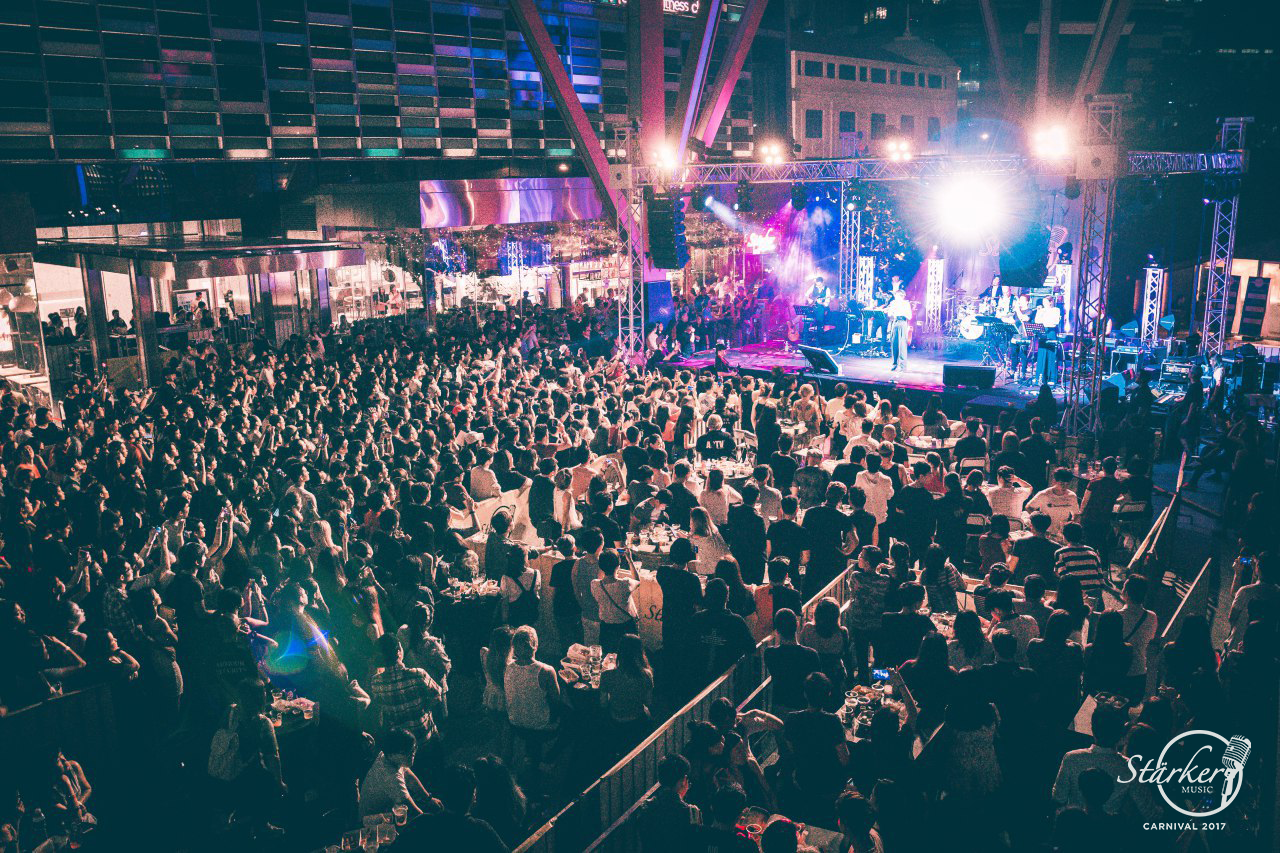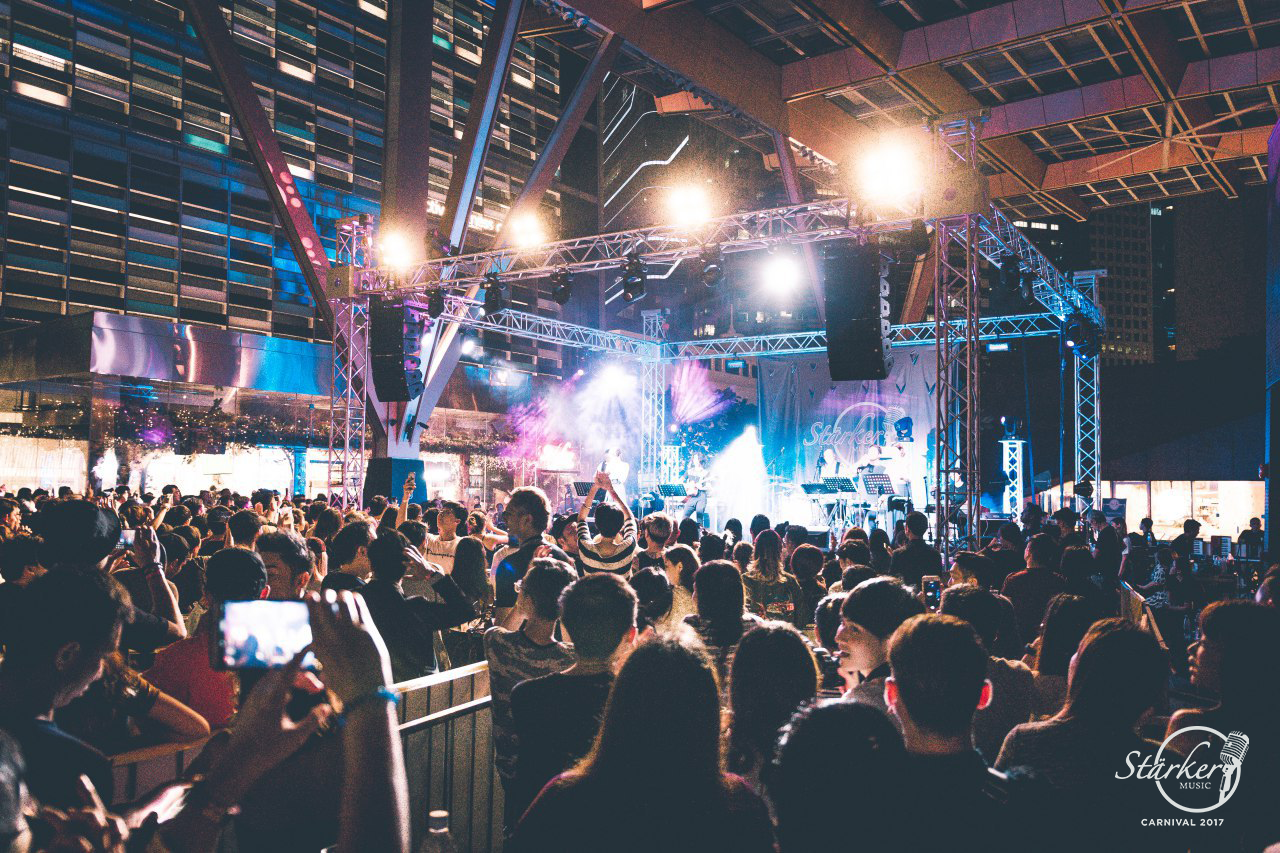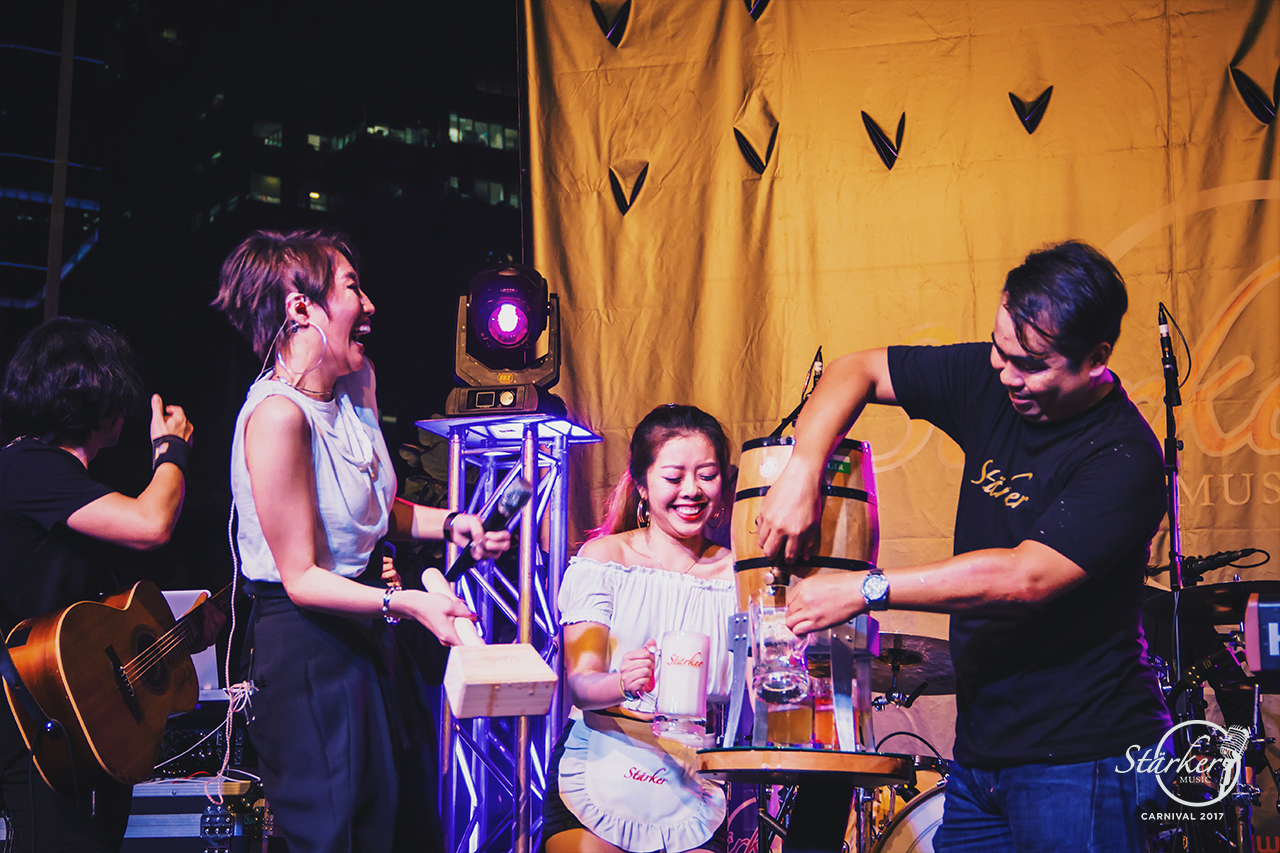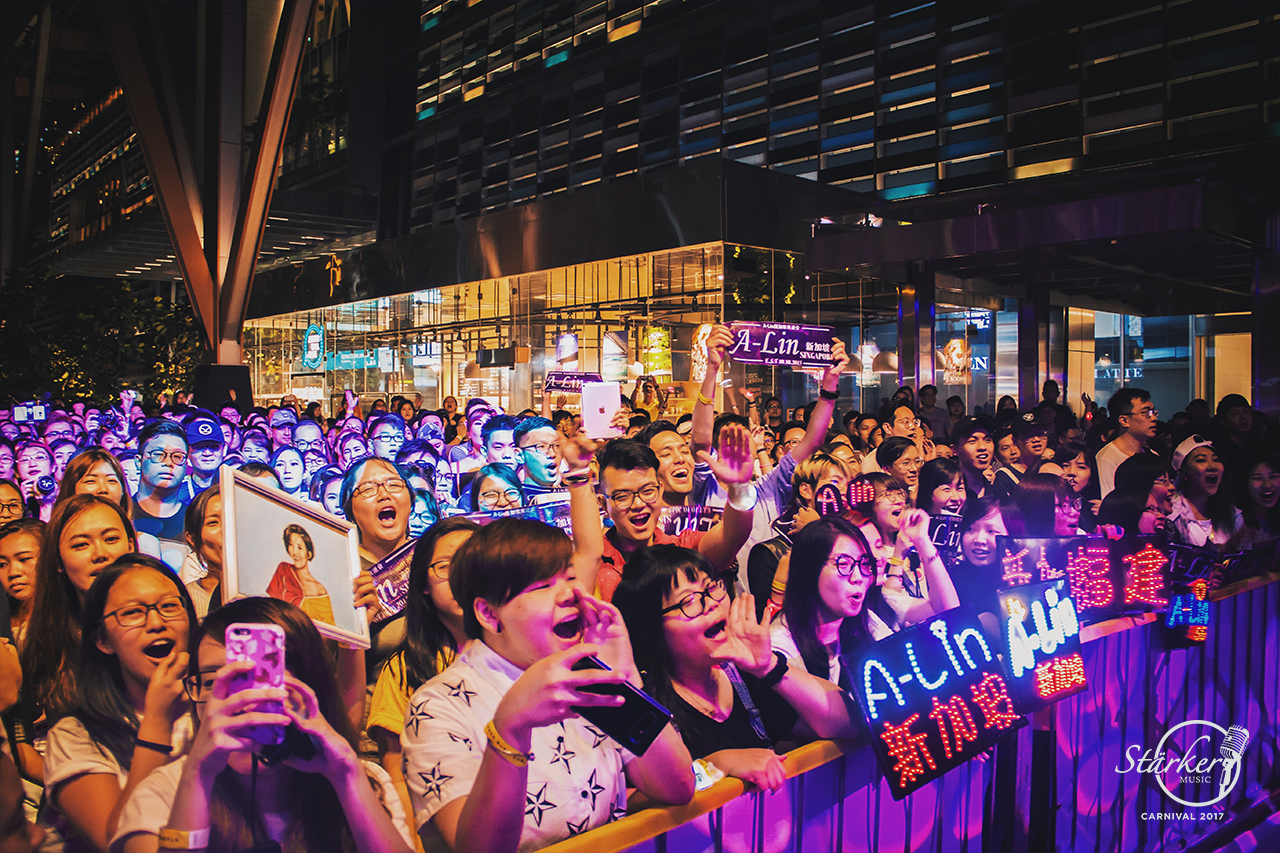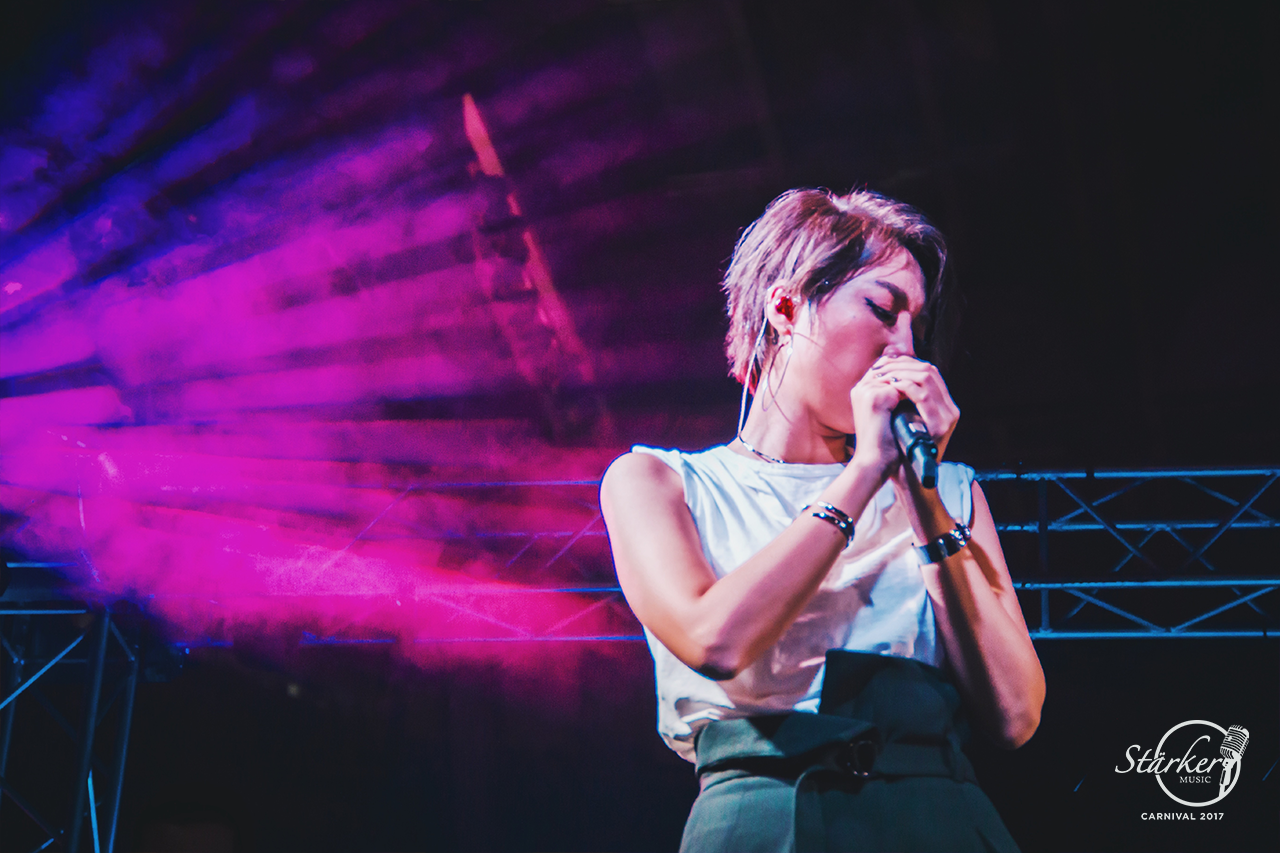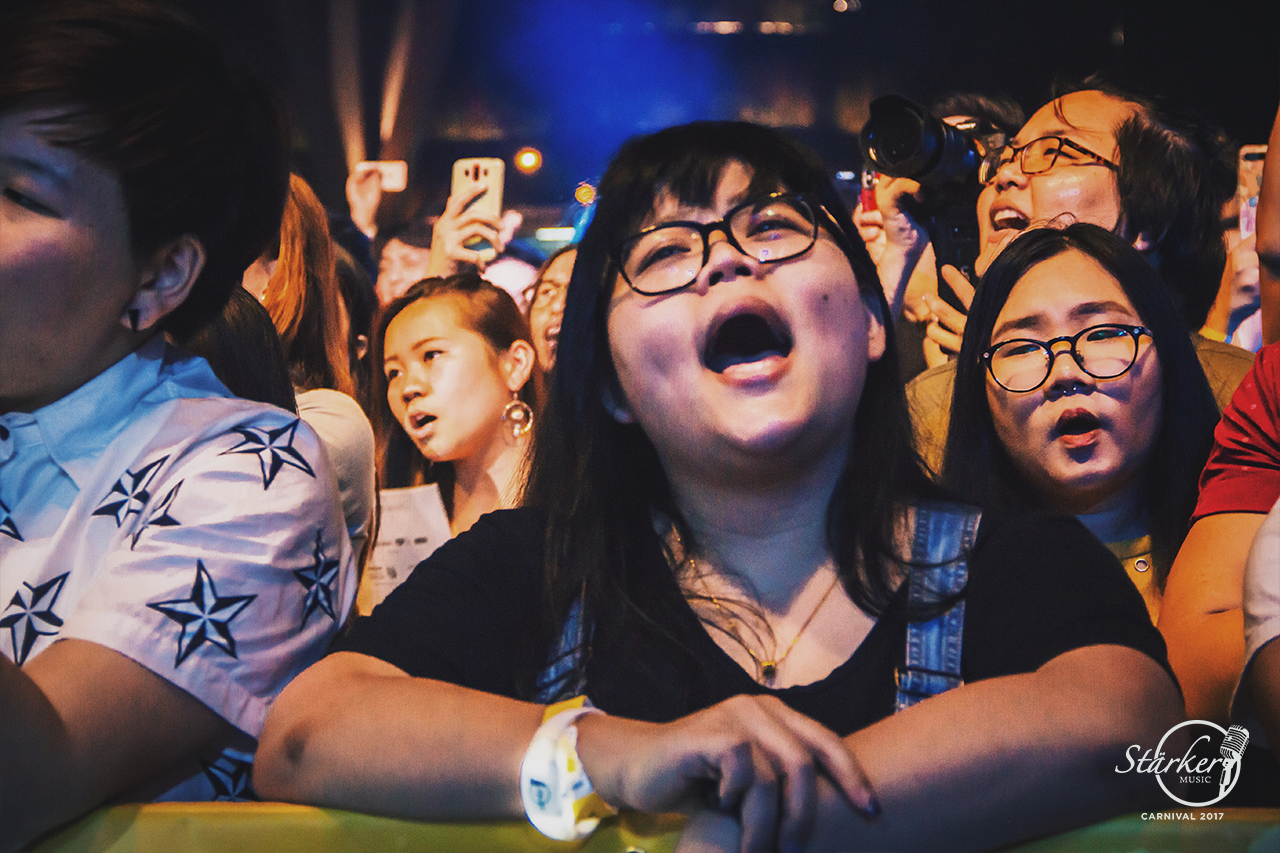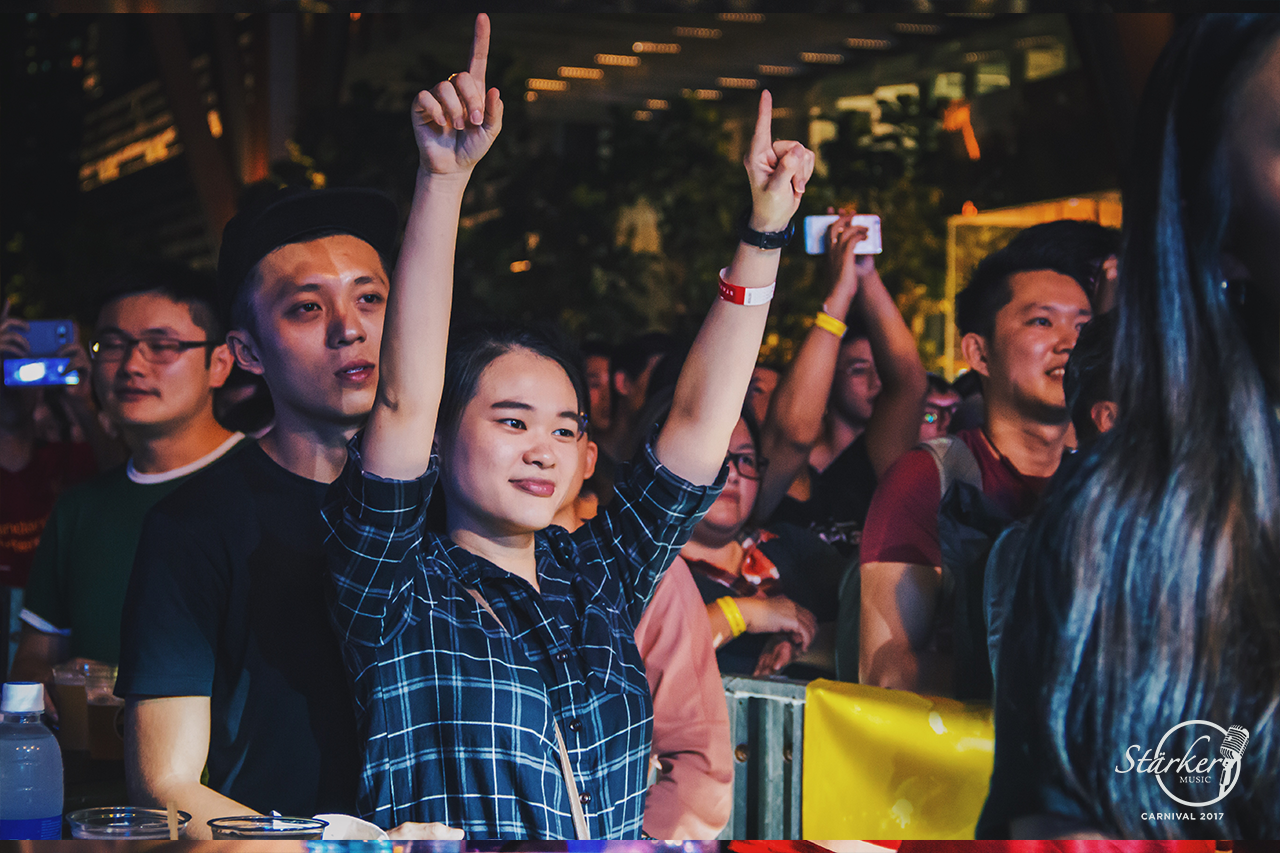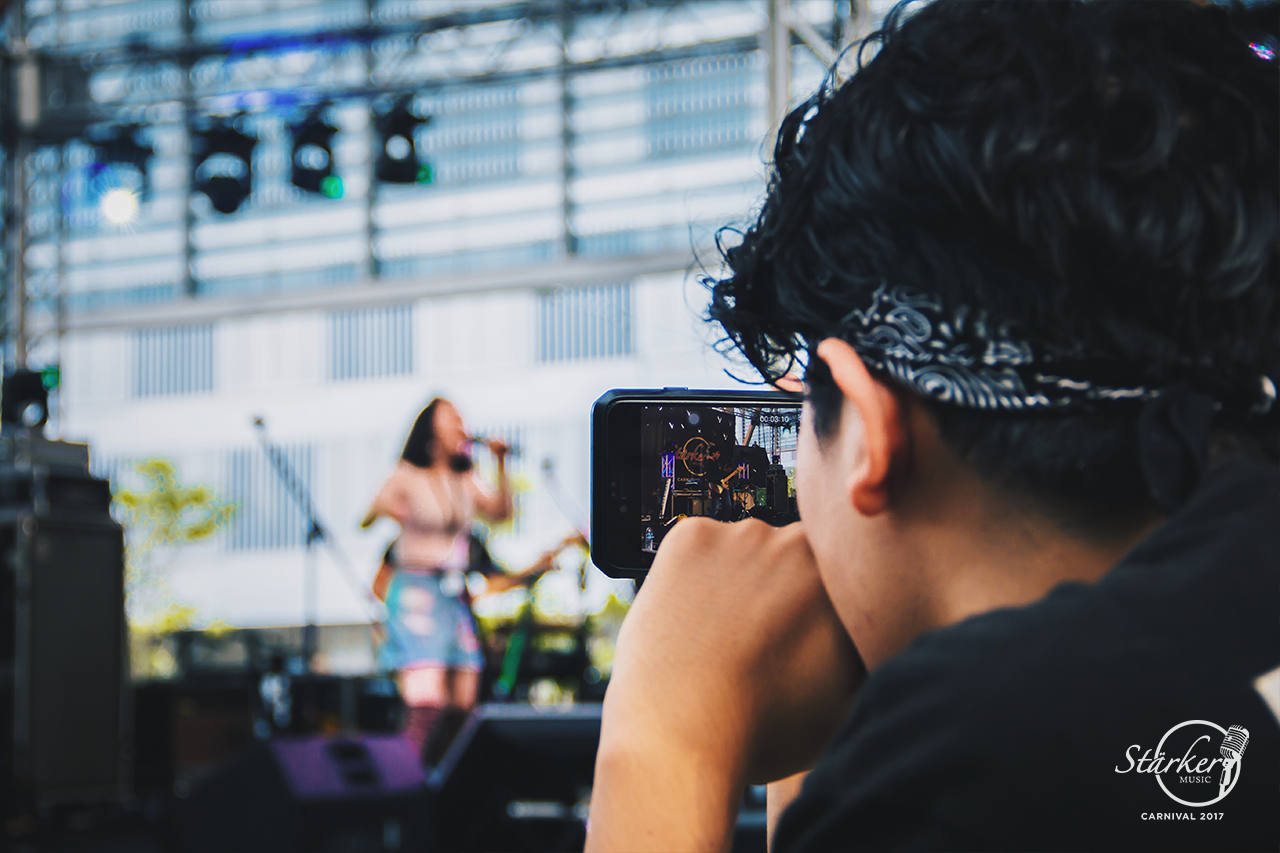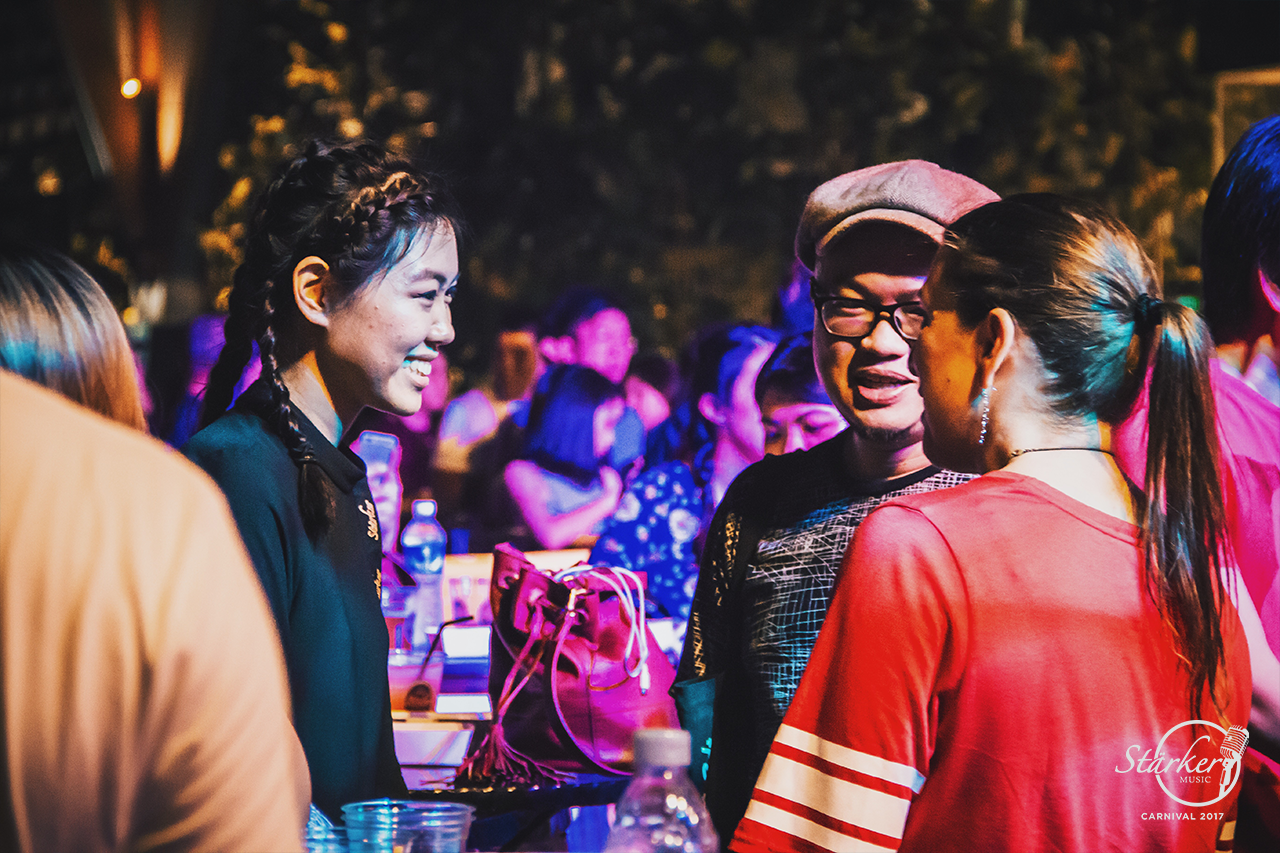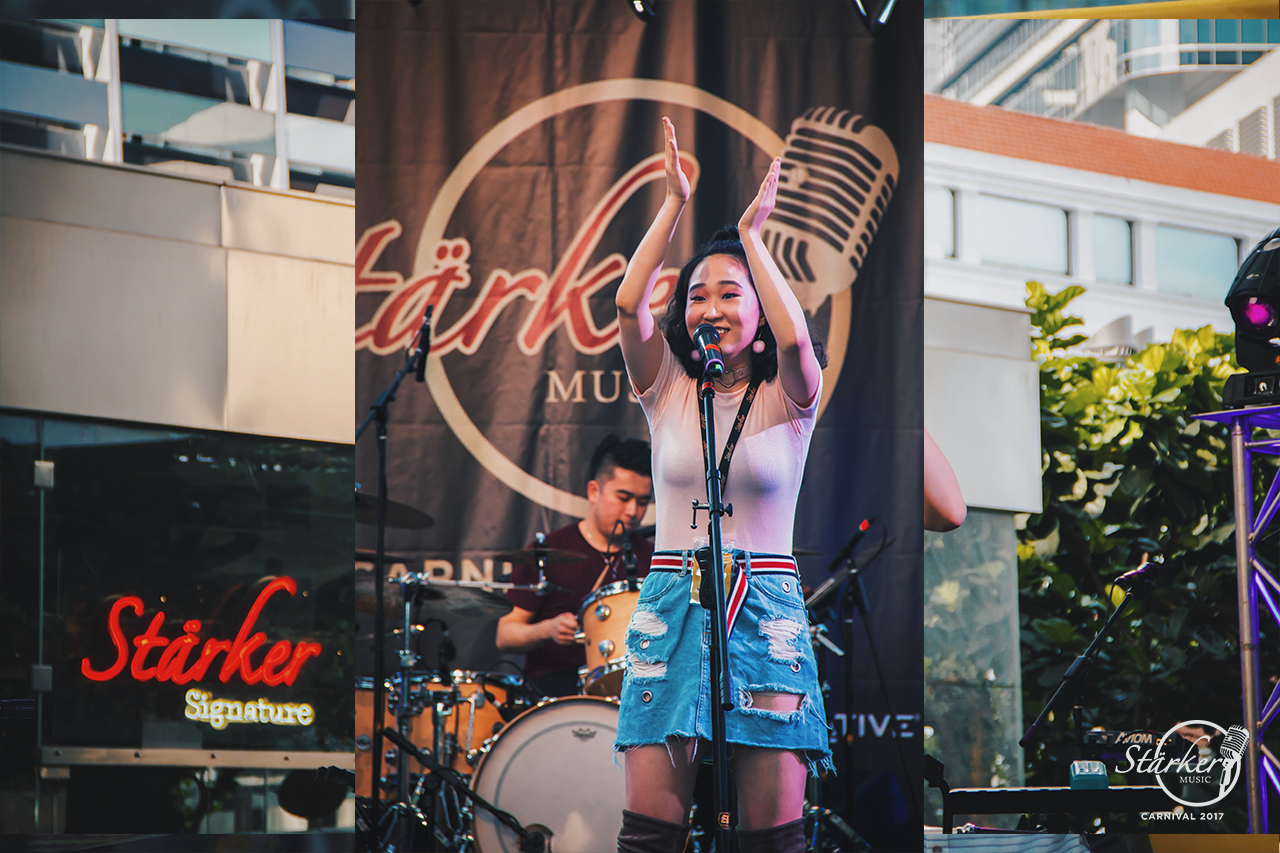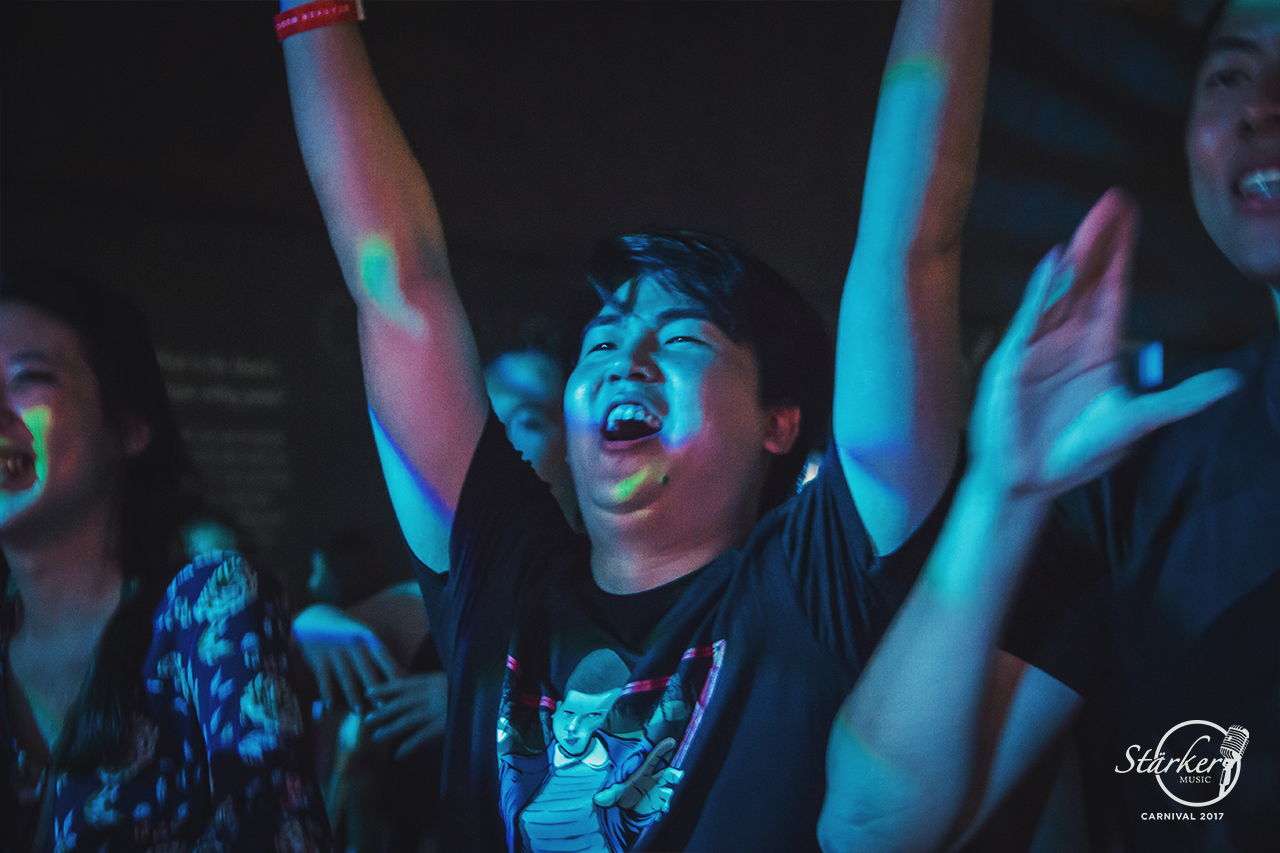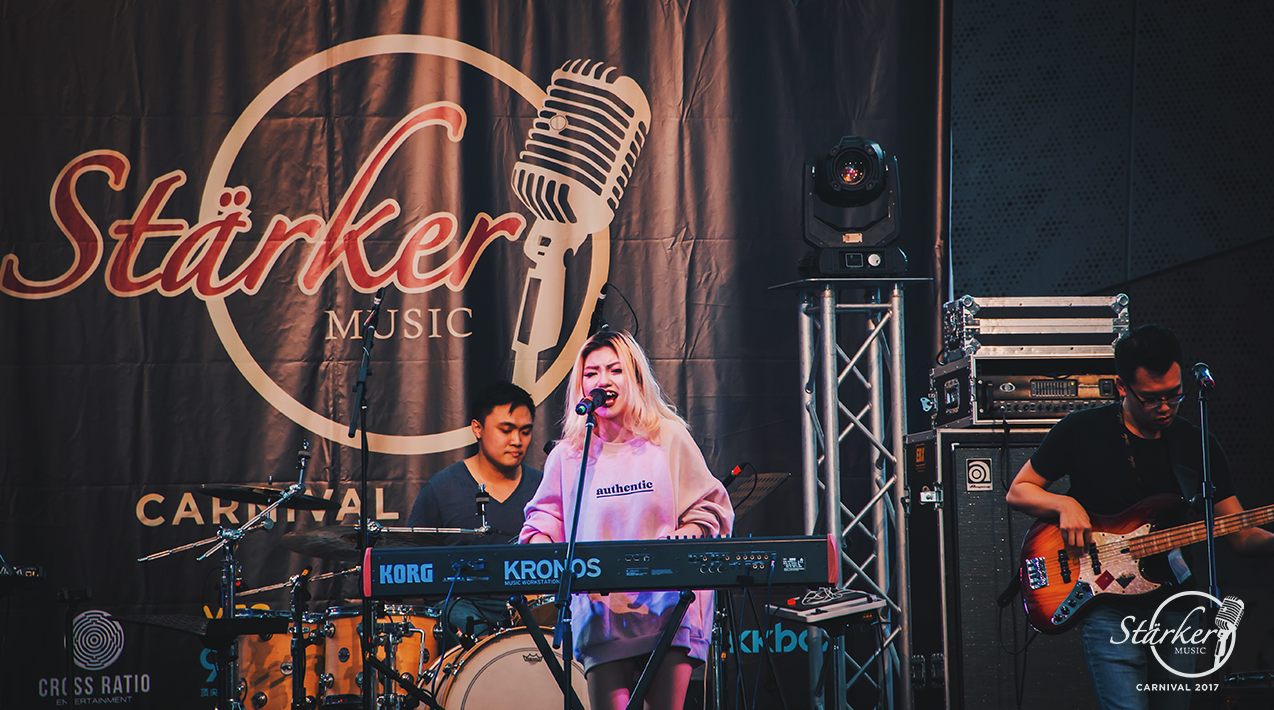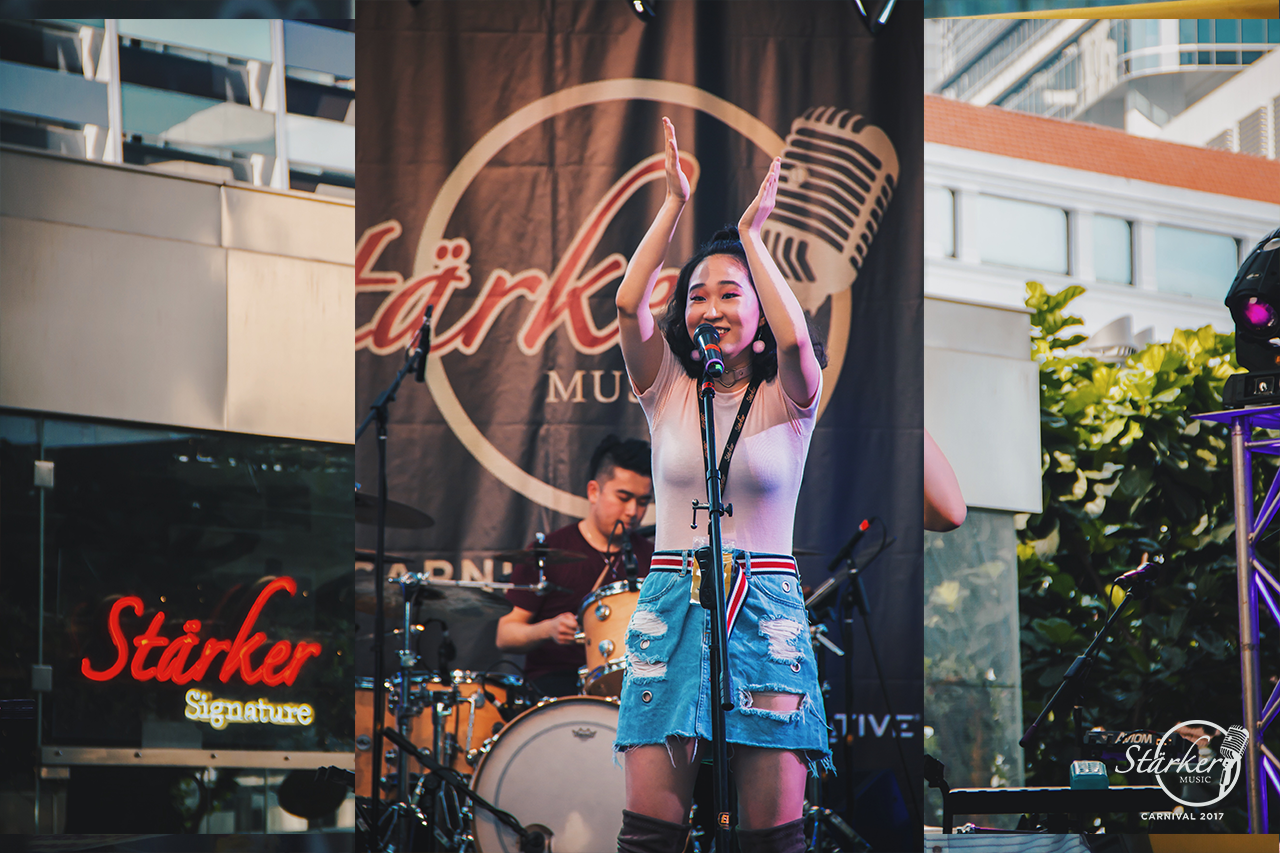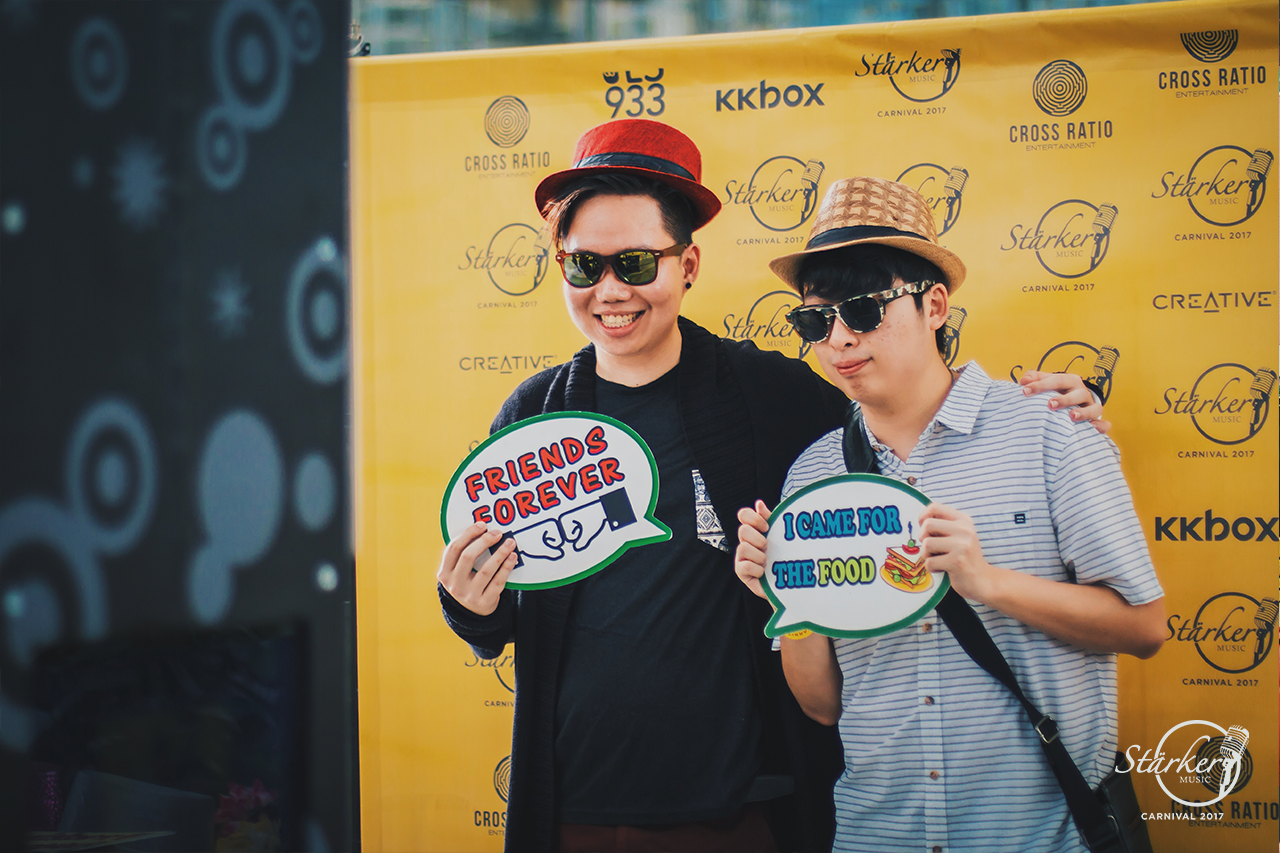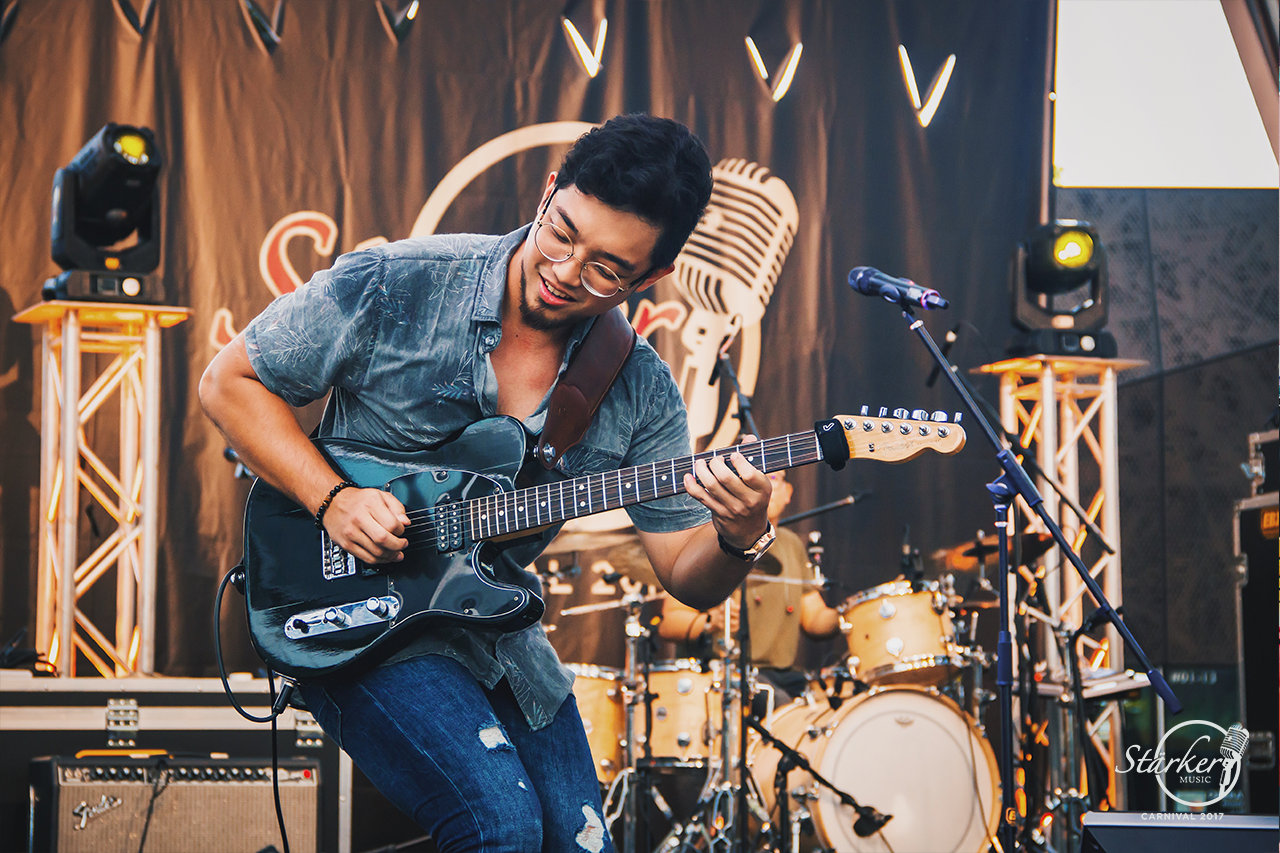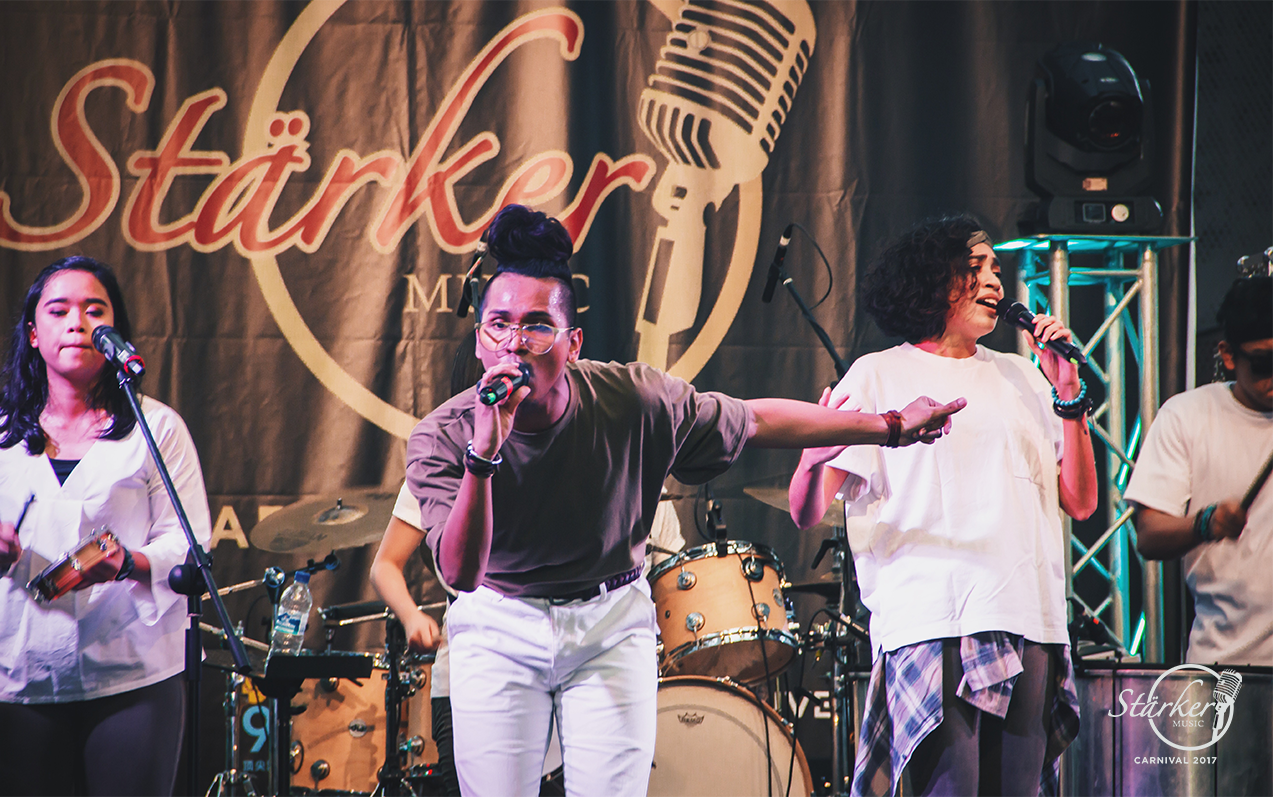 The second edition of Stärker Music Carnival wrapped up successfully last Saturday, 4th November 2017 as the sold out event recorded a turnout of almost 1500 people. Initiated by Stärker Group, and supported by Cross Ratio Entertainment as its Official Music and Event Organiser, the annual music event attracted music lovers of all kinds, celebrities, individuals from the music industry including producers, managers, artistes etc. This year's performance lineup embraced a variety of music genre. From emerging to established acts, pop, rock to electronic, audience enjoyed a 6 hours live show brought by local and regional acts.
Prior to the doors opening, queues already started forming as many came early to secure good spots in the free seating/ standing venue. It was not long before the event ground was quickly swarmed and filled up with audiences.
The event first kicked off with the final round of Stärker Music Jams, where the four emerged finalists (GIRI, RABCDE, Motus and Sabby and the Cats) performed their crafts . Apart from cover songs, these talented emerging musicians also made their voice heard by proudly presenting their original pieces to the crowd and judges of Stärker Music Jams - renowned producer Jim Lim and Talent manager Willy Tan.
Leading up to the headliner act, 5 established homegrown acts - Jasmine Sokko, The Facade, Disco Hue, Ling Kai and Alfred Sim first took over the stage with each of them putting up a full set performance.
Known for her catchy pulsing synths, singer-producer Jasmine Sokko performed hit songs such as her debut single '1057' and familiar covers such as 'Toxic' by Britney Spears. Interestingly, when the electronic artiste first started her music career, she was also part of the event last year as one of the promising emerging talents of Stärker Music Jams. A year later, she is back at the stage again, this time as one of the main lineup of the event - proving her tremendous growth over the span of a year.
Alternative Pop band, The Facade, then took over the stage and appealed to the audience with their signature sound - pop, rock with a tinge of blues. The crowd was seen jamming to their groovy beats of their setlist which included songs such as 'Vanity', 'Better Than This' from their latest EP, 'Vanity'.
Previously part of the Stärker Music Carnival 2016 lineup, Synth Pop band Disco Hue returned to the stage for the second time. As always, they were able to easily hype up the crowd with their catchy chart topping tunes such as 'Plastic Hearts' and 'I'll Be Waiting'.
As the night drew in, there were more exciting acts awaiting mandopop fans. Bilingual singer Ling Kai rocked the stage with her recent releases such as '本能 (Unlearn)', '狼来了 (Wolf)' and cover songs like '喜剧之王 (King of Comedy)' by Li RongHao.
Ling Kai's performance was followed by veteran singer Alfred Sim as he invited the crowd to a massive sing-a-long session with him. He performed many familiar favourite songs, including his first original chart-topping single '一直都在 (Here, Always)' which was selected as the soundtrack for Mediacorp Channel 8 blockbuster drama, 'When Duty Calls'. Like how the saying goes, 'old is gold', Alfred also captured the hearts of many older audience with cover songs such as '每天爱你多一些' by Jacky Cheung and renowned cantonese song '海阔天空' by Beyond.
All four finalists who performed earlier on, were gathered back on stage for the announcement of the Stärker Music Jams winner. After much anticipation, pop/funk/R&B band RABCDE was crowned the winner of Stärker Music Jams 2017. The winning title earned them a fully sponsored Music Video and single recording, residency programme with Stärker Music, a sponsored LEVI outfit set and one year management deal with Cross Ratio Entertainment.
Taiwanese vocal powerhouse, A-Lin made her grand entrance with her first song '未单身 (Pseudo-Single, Yet Single)', which was only released last August. She performed for almost an hour with a repertoire ranging from her iconic hit songs to recent releases such as '给我一个理由忘记 (Give Me A Reason To Forget) and '忘记拥抱 (Forgetting Your Embrace)'. Her usual bubbly and quirky personality was reflected through her goofy moments in between songs. Many were even caught off guard when she requested for a glass of beer on stage and then later initiated to toast with the audience.
Even though this was her third visit to Singapore this year, local fans still lived up to what the A-list star often described them as - '热情 (passionate), just like the local weather'. Amongst the audience, there were supporters with LED boards, many of them even whipped out their phone flashlight and sang along with her. It was evident through the undying cheers from the audience that they loved her show.
As part of the German beer culture, the carnival concluded with a beer barrel ceremony where A-Lin was invited to tap off the barrel with a mallet. Before leaving the stage, A-Lin made an impromptu decision to surprise all her supporters with an additional song. She did a cover of R&B singer Tamia's 'Officially Missing You', ending the event on a high note.
Photo Credits: Starker Music Carnival 2017
Ling Kai EP Launch Party - 'Unlearn'
Ling Kai's EP Launch <UNLEARN> media conference was organised by artiste management company Cross Ratio Entertainment, was held yesterday on 5 October 2017, at SWITCH by Timbre.
Kicking start the conference , Ling Kai shared her thoughts and feelings of releasing this EP with YES 933, DJ Kunhua, who was the host for the media conference. She reflected on her journey of being an artiste for the past decade. Through this introductory segment, it was evident that the homegrown singer-songwriter has certainly returned stronger, with a more mature mindset this time.
It was followed by an exclusive Music Video premiere of her new single "Unlearn". Following, they spoke about the large scale production of the Music Video, which took weeks of conceptualisation and preparation. Over 50 production crews were involved in the two days filming. A full size room was specially customised and built - which was later demolished for the later scenes of the video. During this segment, the director of the MV, Glenn Ng, was invited on stage to share about the finer details of the music video and explained the reason why it took so many people to produced this special video.
Another highlight of the conference was the appearance of Jim Lim, notable producer in the Mandarin Pop industry. He expressed his pleasant experience of working on the EP with Ling Kai.
She performed a few of her new songs from the EP with full band, which includes Dumbfounded "目瞪口呆", Wolf "狼来了,Eat, Drink, Sleep, Repeat "吃喝拉撒"。
After the media conference, Cross Ratio Entertainment had also organised a listening party at the same venue, showcasing her EP<UNLEARN>. Fans, friends and family of Ling Kai, and even local celebrities such as Ya Hui, Alfred Sim, The Freshmen, Jack & Rai all came down to support Ling Kai and her joyous occasion, filling up the venue to its full capacity.
She serenaded the audience with a high energy full set of songs from the EP, some original songs from her previous EP, 'Honestly'. In between the set, she highlighted her key source of inspiration and stories of creating her originals to the audience. She wrapped up the listening party with her EP title track, 'Unlearn', accompanied with the melodic tunes played gracefully by the violinist.
photo credits: Henzy
The Façade <Vanity> EP Launch Party
In conjunction with the release of their long-awaited debut EP <Vanity> that was released under local record label Cross Ratio Entertainment on 21 June 2017, local alternative pop band, The Façade, found overwhelming success at their EP launch party on the 25 June 2017 at Esplanade Annexe Studio.
The night kick-started on a high note with local electronic act, Jasmine Sokko, opening the show. Following her set, the audience truly came alive when The Façade came on and opened their set with an extended version of their hit single 'Better Than This'. Sharing about the inspirations behind their songs, the band played proceeded to play their widely popular singles 'Victim' and 'White', as well as 'Hearsay' - a new track that is fresh off their debut album. The band surprised the audience by playing two unreleased songs that they've written – 'Crazy', as well as 'Half' that was led in to by their cover of The Click Five's 'Jenny', which the audience sang along loudly to.
The band also covered a few crowd favourites such as Charlie Puth's 'Attention', and DNCE's 'Kissing Strangers', putting their own spin on each of the songs with their unique arrangements. Fortifying their versatility, The Façade members, Brendon Chua and Jereld Ang, did a special acoustic segment during which they played 'Kiss Me Slowly' by Parachute.
The night was full of surprises by the band as they brought up the lead vocalist of Second Sunrise, Abbey, to sing a duet to Alicia Keys' 'If I Ain't Got You' with The Façade's lead vocalist, Brendon Chua. At the end of the night, the fervent crowd could not get enough of The Façade, in which they enthusiastically went up for an encore number, covering Ed Sheeran's chart topping single, 'Shape of You' which saw the crowd dancing and singing along.
In conjunction with the EP launch party, The Façade's <Vanity> album has claimed the No. 5 spot on iTunes' Singapore Alternative Chart and their latest single 'White' is still going steady on Spotify's Top 50 Viral Tracks Singapore All Genre Chart.
Photos credit: Jazreel-Anne
Alfred Sim's Debut Solo Rock Concert - 'Huayi LIVEHOUSE'
Just one year ago, local singer Alfred Sim released his debut eponymous album. The EP launch was held at Switch by Timbre, and the event saw a full-house crowd. Despite only officially pursuing music for a year, Alfred has already participated in various large-scale events locally and regionally, and is a well-seasoned performer. This year, Alfred was invited to perform for 'HUAYI – Chinese Festival of the Arts 2017', which concluded last night (3rd February). His first solo rock concert took place at Esplanade Annexe Studio, titled《HUAYI LIVEHOUSE》.
The concept of LIVEHOUSE is a new one – and rather aptly, Alfred Sim was the first Mandopop artist to grace the stages of Esplanade's Annexe Studio. Needless to say, a rock concert would be severely lacking without the accompaniment of a full-band; as such, Alfred's LIVEHOUSE performance featured a four-piece band (consisting of a bassist, guitarist, drummer and keyboardist/music director), all of whom are active musicians in both local and international circuits.
In order to better embody the spirit of the concert, Alfred replaced his signature look with a never-seen, rock-esque makeover. In addition to sporting a trendy jacket from local fashion brand, Hardy Hardy Singapore, Alfred's previously brown hair was also exchanged in favor of a more refreshing ash-grey hairstyle.
Alfred Sim kicked off the show on a high note with <My Friend>, an explosive rock ballad off his debut album. After which, the singer continued to heat up the atmosphere with another original, titled <Glimmer>, as well as a cover of singer Gary Chow's <3-7-20-1>. Having invited to perform the theme songs for many local Mediacorp drama series, Alfred Sim also sang two of the most familiar tracks: the theme song of drama 'The Journey: A Voyage' titled <Homeland>, as well as the theme song of last year's blockbuster drama 'If Only I could', titled <The Beautiful Times>.
One of the highlights of the concert is the exclusive preview of Alfred Sim's brand new unreleased track <Here, Always>. The new single is co-written by Alfred and local renowned music producer Jim Lim, and well-known lyricist Zheng Lesheng.
Winning the champion title of 2014 Project Superstar competition, Alfred Sim also performed a medley of the famous covers that he had sang during his competition days. The medley includes songs like <Zheng Fu>, <Wo Yuan Yi>, <Re Qing De Sha Mo>, <Ting Hai>, <Na Ge Nan Ren> and <One Night In Beijing>, bringing back fond memories of fans who have been supporting him since then.
Other than performing his originals <Lover> and <Make A Phone Call> off his album, Alfred also belt out the recent famous hit song <Mo> by Chinese singer, Na Ying, as well as a revised upbeat rock version of the classic song <Kiss Goodbye> by Jacky Cheung.
Another highlight from the concert which brought the crowd to a high point is Alfred's cover of Hong Kong band BEYOND's rock classic <Wo Shi Fen Nu>. The song is one of the most challenging of the set due to its tedious Cantonese enunciation and high beat tempo. To round up the concert, Alfred also chose one of his most memorable performed covers, and another of BEYOND' most well-known classic, <Hai Kuo Tian Kong>.
Flying Syrup 'Spirit Of 8' EP Launch featuring FXTRT
Since launching their self-titled debut album in 2013, Singapore-based alternative rock band 'FLYING SYRUP' has been working on new material and has made a return with sophomore album, <SPIRIT OF 8>. The album officially launched on the 3rd of December 2016 at Hood Bar & Cafe, and was organised by the album's PR and Marketing agent, Cross Ratio Entertainment.
The launch started with opening act 'FXTRT'. The band started their set with "Maggie" and "Ground Beef", previously unheard material. Subsequently, the band performed more familiar tunes such as "Elephants", as well as a handful of other originals from their debut EP titled <PALETTES> , which includes "Purple" and "Rome". Throughout the set, visuals created by Annie Hung illuminated the stage's backdrop.

Shortly after, 'FLYING SYRUP' took the stage. Aan (bassist) and Beni (keyboards), primarily based in Jakarta, flew in specifically for this occasion. The headliners played for a set consisting of about 20 songs, and showed no signs of slowing down towards the end of the night.

Throughout the two hours, the band performed songs from it's debut album such as "You Remember" and "Backdoor", reworked and spruced up with additional melodies. The band also prepared a medley of songs by The Killers, "Roxanne" by Police, and "Desert Rose" by Sting - all of which were completely rearranged. In addition, the band debuted new singles - "Principles" and "You Said", along with "Killing the Angel" and "Find Your Way".

In particular, "Principles" and "You Said" were performed with accompanying music videos, projected onto the stage's backdrop - leading to a more compelling overall experience. Notably, "Principles" was shot in Jakarta and was featured on Bandwagon. The event saw crowds of almost 200 and many CD sales, a resounding success.

<SPIRIT OF 8> album is now available on iTunes and all digital platforms. Physical albums are available on Cross Ratio E-store at the following link: http://crossratio.tictail.com/product/flying-syrup-spirit-of-8
Stärker Music Carnival 2016
Stärker Music Carnival, an initiative supported by Cross Ratio Entertainment as its official music partner, ended on a high note with "Queen of Drama Theme Songs" Della Ding Dang closing the festival with one of her popular favourites, including familiar tunes like 《相恋一个爱》,《我爱他》,《我是一只小小鸟》and 《猜不透》. The audience made repeated calls for an encore, displaying spirited enthusiasm and high energy throughout the afternoon and evening.

Staged on 1 October 2016 at Zhongshan Park, the Carnival saw a gathering of fans of Ding Dang, one of whom shared the microphone with her when the Taiwan-based artiste walked into the crowd for a personalised meet-and-greet while belting out a tune. This was after the singer gamely participated in a traditional beer barrel-knocking ceremony typically performed at the start of Oktoberfest. With mugs of Stärker Fresh Beer in hand, she, together with the two emcees, heaped well-wishes on the Stärker Group.

The Carnival also marked a new chapter in the music career of local emerging talent ASTRONAUTS , who was announced as the winner of the VOLT competition.

Starting from 3pm, Stärker Music Carnival opened its doors and welcomed an enthusiastic crowd that eventually swelled to more than 500 music lovers. In addition to catching Della Ding Dang performs, they were also there to support established local acts 'Tay Kewei' , 'Charlie Lim' , 'Disco Hue' and 'LEW'. The four shared the stage with three other finalists from the VOLT competition: Marcus Makes Music, Jean Tan and Marian Carmel.

The resounding success of the inaugural Stärker Music Carnival also has the Stärker Group making plans to stage another one in 2017. Consequently, in the near future, VOLT will kick-start again, inviting local emerging talent to audition and, if they make the cut, perform a set at Stärker Music Zhongshan Park. Musicians interested to participate in the initiative should watch out for updates on Stärker Music's Facebook and Instagram pages.
After seven years of waiting, homegrown singer-songwriter Tay Kewei finally held her very first full-fledged solo concert 'Chi', on 17th June 2016 at the Esplanade Concert Hall.

Presented by Cross Ratio Entertainment, and co-sponsored by Starker Music and Peugeot, 'Chi' is Tay Kewei's first large-scale solo ticketed show since her album launch concert held at the Esplanade Recital Studio seven years ago. Other than family, close friends and fans, many celebrity friends such as Janice Koh, Jeannette Aw, Sora Ma, You Yi and others, also came down to support the singer-songwriter.

Two upcoming bands, Fillory and The Façade, both also under the management of Cross Ratio Entertainment, kicked off the night as they performed as the opening acts for their company's 'Big Sister'.
Fans witnessed the growth and evolution of Kewei's music and individuality as an artiste over the past seven years, as she challenged her past works with a brand new arrangement supported by a full 6‑piece live band. The concert was designed into three segments. The first segment consists of the classic hit songs of Tay Kewei, portraying the glamorous side of a singer at his/her highest career peak.

Tay Kewei's latest EP <7 years> is available at all good record stores and at Cross Ratio E-store. The physical EP is also available in Malaysia, Taiwan and Hong Kong, while the digital release is available on iTunes worldwide.
VOLT: Amplifying Local Talents 2016
VOLT is an initiative by the Stärker Music arm of the Stärker Group in collaboration with Cross Ratio Entertainment, launched in early 2016 to support and amplify previously unknown but gifted singers. The initiative ran weekly from April to October 2016.
The initiative showcased artists such as 'Keith Soo-Tho' , 'FILLORY' , 'Marcus Makes Music' and many more.